Neighborhoods: Read more about the neighborhoods mentioned in this article. [+]
Lower Ninth Ward
Border by St. Bernard Parish, the Florida Canal, the Industrial Canal, and the Mississippi River, the Lower Ninth Ward is one of the last districts to be developed in New Orleans. More >
Tremé
Bordered by Rampart, Broad, and Canal Streets and Esplanade Avenue, Tremé is one of the oldest black districts in New Orleans. More >
Water in Sacred Places: Rebuilding New Orleans Black Churches as Sites of Community Empowerment
Donald E. DeVore
Journal of American History,

94 (Dec. 2007), 762–69
In the city that had transformed "watching hurricanes" into a cultural art form, by Friday night, August 26, 2005, most New Orleanians had placed the eleventh named storm of the hurricane season on their personal watch list. Over the next forty-eight hours, approximately 350,000 residents evacuated the city. Most of them believed they would return within two or three days, just as they had done after recent storms threatened the city but then veered either to the east or west. The evacuees and the residents who remained in the city watched with some relief as Hurricane Katrina made landfall east of New Orleans, sparing the city the full force of its 140 mph winds. The first news reports were encouraging, but the optimistic assessments that the city had suffered only moderate damage were short-lived. The nation and the world watched with concern, disbelief, and horror as the tragedy in New Orleans and along the Gulf Coast unfolded. For many residents, that marked the beginning of a long and still-evolving process to return to the city and rebuild their lives.[1]

Glossary: Hurricanes along the Gulf Coast More [+]
Hurricane Katrina, the most expensive storm in U.S. history, is only the most recent hurricane to affect the U.S. gulf coast. Since the turn of the twentieth century, several notable storms have hit the region, bringing death and destruction to countless coastal communities.
The deadliest hurricane in U.S. history made landfall on the afternoon of September 8, 1900. A category 4 storm, the Galveston Hurricane arrived with little warning and beat the city with over 100 mph sustained winds until late into the night, killing over 8000 residents, and leveling 12 city blocks.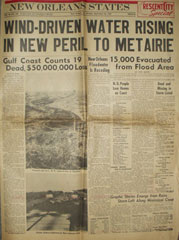 New Orleans States, September 22, 1947. "Wind-driven water risingin new peril to Metairie." Courtesy Hurricanecity.com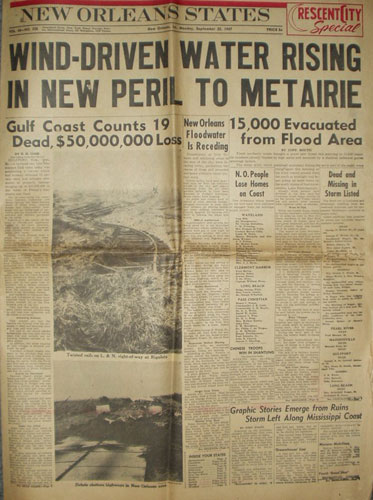 New Orleans States, September 22, 1947. "Wind-driven water risingin new peril to Metairie." Courtesy Hurricanecity.com
The 1947 Fort Lauderdale Hurricane devastated parts of Florida before reenergizing over the Gulf of Mexico and making a second landfall in New Orleans on the morning of September 19. A direct hit, the category 3 hurricane flooded Metairie and other areas near the 17th Street Canal.
In 1965 Hurricane Betsy became the first hurricane to cause damages in excess of $1 billion. "Billion-dollar Betsy" was a category 3 hurricane, and it slammed into New Orleans on September 9, driving a storm surge into Lake Pontchartrain and overwhelming the Industrial Canal levees. Flooding in the Lower Ninth Ward reached the eaves of several homes and over the roofs of others.
On August 19, 1969, Hurricane Camille ravaged the Mississippi coastline with record-setting intensity. The strongest storm to ever make landfall along the Gulf Coast, Camille's 190 mph sustained winds and a 25-ft storm surge stripped the land of all man-made structures within a half mile of the ocean and caused flooding as far north as Virginia.
Hurricane Georges was the second major hurricane of the 1998 Atlantic hurricane season. It made seven landfalls in six different countries before coming ashore near Biloxi, Mississippi, on September 28. Despite being only a category 2 hurricane, the impact of Georges was felt throughout the gulf region. Parts of Mississippi, Louisiana, Georgia, Florida, and Alabama endured 8- to 10-foot storm surges, torrential rains, and multiple tornados; however, due to advance warning and well-executed evacuation plans, the death toll from Hurricane Georges is low.
The 2005 Atlantic hurricane season was one of the most active on record. It spawned Katrina and six other major hurricanes, of which three—Dennis, Wilma, and Rita—made landfall in the United States. The 2005 Atlantic hurricane season was responsible for over 2,000 deaths and damages of over $125 billion.
Unfortunately for the more than 250,000 residents that have not been able to return to the city to live, the recovery and rebuilding effort has been slow and, in some areas of the city, nonexistent. A household population survey completed in September 2006 showed New Orleans with a population of 187,525 as compared to 454,863 in July 2005. Many displaced residents have been frustrated in their efforts to return by several factors, including disputes with insurance companies, inadequate employment opportunities, high housing costs, housing shortages, concerns about flood protection, escalating insurance rates, and reduced city services. Another major obstacle has been the commitment to "a market-driven approach to the recovery effort" championed by, among others, New Orleans mayor C. Ray Nagin. Many individuals believe that a market-driven plan is untenable given the scale of the problem and the many disparate groups involved, each with differing needs and interests. Critics of the market-driven approach favor a comprehensive recovery planning process that is inclusive and involves active and effective leadership from the mayor and other city leaders. Efforts are underway to develop a unified New Orleans neighborhood plan, which may serve as the catalyst for an accelerated recovery process beginning in 2007.[2]
Nonetheless, neither the absence of a comprehensive plan nor the inadequacies of a market-driven approach has prevented individuals from pursuing their own "road home" plan. Their efforts have been enhanced by the involvement of churches in the recovery effort. An August 2006 editorial in the New Orleans Times-Picayune pointed out what many in the city had observed or experienced since Katrina: "Faith-based organizations and churches have been a godsend for the metro area . . . showing an ability to organize, mobilize and get things done that has frequently eclipsed the public sector." New Orleans African American churches have been actively involved in that effort.[3] This article examines the work of several of the city's African American churches and suggests that it is emblematic of the role the black church is assuming in the city's recovery, a role that fits within a longstanding tradition of African American churches as centers of the social, political, economic, and religious life of their members and communities.[4]

Thread: Post-Katrina population change Expand thread [+]
The repopulation of the city has disproportionately drawn those with more resources. Follow thread in Fussell, "Population History" >
The importance of religion and the church in the lives of African Americans has been well documented by scholars and other commentators. In 1897 W. E. B. Du Bois noted that the "Negro church is not simply an organism for the propagation of religion; it is the centre of the social, intellectual, and religious life of an organized group of individuals." Du Bois continued to write about the black church for more than half a century and remained firm in that belief. Applying their analyses to the entire African American experience in this country, other scholars reached similar conclusions. According to Albert J. Raboteau, the religious experiences of enslaved African Americans during the antebellum period included "Sunday church service and revival meetings which were occasions for socializing, news gathering, and picnicking as well as for prayer." He maintained that "slave religion had a this-worldly impact, not only in leading some slaves to acts of external rebellion, but also in helping slaves to assert and maintain a sense of personal value—even of ultimate worth."[5]
A sense of "personal value" helped define them as freedmen and freedwomen, as it did their descendents. During Reconstruction the black church became, in the opinion of the historian William E. Montgomery, "the most powerful and important social institution in the black community. . . . It provided leadership in vital areas of development." In his study of Reconstruction, Leon F. Litwack also called attention to the political leadership that religious leaders provided African American communities, concluding that "the political and religious leaders were the same men." In the last decades of the nineteenth century and into the twentieth, African American religious leaders continued to see their churches as essential centers in their communities. As hundreds of thousands of southern blacks participated in the Great Migration and urbanization they took with them a religious tradition in which churches "functioned not merely as houses of worship, but as school buildings, lecture halls, meeting houses, and entertainment centers."[6]
<

Return to Kingsley's "
Building Renewal"
When Hurricane Katrina made landfall in August 2005, African American churches in New Orleans were both heirs of and contributors to the community-building tradition of the black church. The black church had been the organizational entity that gave meaning to the lives of many black New Orleanians and was the vehicle for their religious beliefs, expressions, and practices. In the churches they exercised leadership, worked for and attained status, and earned the admiration and respect of their fellow members. Their individual and collective prayers allowed them to appeal to an omnipotent and merciful God, and their faith enabled them to believe that he was also active and cared deeply for them, one of his chosen people. Their churches served as markers of their lives on earth—in baptisms, weddings—and gateways to their lives afterward. They were a people of faith, Afro-Christianity fused with the marrow of their bones. They would draw on those religious and church resources after the 100 mph winds ceased and the polluted water that had covered 80 percent of the city receded.[7]
What other Americans learned through the media, the individuals trapped and stranded in the city learned firsthand—the floodwaters came much too fast and receded much too slowly. And when fires erupted in parts of the still-submerged city some began to think of the continuing disaster in biblical terms. Surely some of them had thoughts, even if only fleetingly, similar to those later expressed by national and local leaders: that the hurricane damage and flooding were punishments for the various sins of America or New Orleans. If God was, as their own mayor, C. Ray Nagin, asserted, "mad at America," then their faith and their churches, through rebuilding and continuing community service, would be vehicles for atonement, not abandonment. An angry and active God was part of their religious and Christian traditions, as were natural and man-made disasters. The rancid waters were still near their peak levels inside hundreds of New Orleans churches when religious leaders and church members began resurrecting their church communities.[8]
To reconnect the web of relationships that formed the very fabric of the church communities, religious leaders used the technologies available to them. For example, the Reverend Hadley R. Edwards, the senior pastor of Bethany United Methodist Church, searched his e-mail files to retrieve the e-mail addresses of church members. He used that information to locate church members, and to inquire about their safety, spiritual and emotional health, and families, and to send them daily messages. His members, scattered in twenty-three states, were now part of the New Orleans diaspora. Reverend Edwards knew that his ministry, like his life, church, and the lives of his members, had experienced a profound and permanent change. Ministering to them in the virtual environment was just one manifestation of those changes.[9]
Reverend Edwards's efforts were typical of those made by other religious leaders and church members to revive their church communities. Many used e-mail messages, while others, less familiar with the new technologies, used telephone conversations to share Katrina stories of evacuations and personal escape, as well as to get information about friends and family. Those virtual religious communities helped them bring order and understanding to their radically transformed lives. The e-mails and telephone conversations also helped them sustain something else: faith and hope. They could draw on their life experiences, personal church history, and black church tradition for tangible affirmation; their faith and hope were not delusional. Rebuilding communities, churches, and lives were all parts of their religious and church experiences. A look at the recent history of Franklin Avenue Baptist Church provides an instructive window into the African American church-building and rebuilding traditions in New Orleans.[10]
Built as an all-white affiliate of the Southern Baptist Convention in the Eighth Ward, Franklin Avenue Baptist Church symbolized the historical racial and class divide of New Orleans. By 1986, with a membership that had plummeted to only sixty-five, as the old neighborhood attracted more and more poor and working-class African Americans, Franklin Avenue had become a mission church with ultimate administrative control held by the Baptist Association of Greater New Orleans. The life of the church began to change in 1986 with the selection of an African American minister, Fred Luter Jr. He utilized a pastoral style characterized by a gospel message that emphasized inspiration and teaching, relationships that fostered equality, and ministries that stressed community service and empowerment. The church enjoyed steady growth, with more than seven thousand members in August 2005. Church members and others familiar with Reverend Luter attributed that success, at least in part, to the force of his faith and commitment.[11]
In a way typical of African American churches, Franklin Avenue affected many aspects of its members' lives. According to Sharon M. Wells, a fifteen-year member of the church, a Franklin Avenue Sunday experience started with informal acts of fellowship—an embrace, a kiss, a handshake, a hello—all before service began. If Katrina had not forced most of Franklin Avenue's members to evacuate, they probably would have been in church the Sunday before Katrina hit, starting their service with an upbeat praise song, standing, rocking, and clapping as lyrics such as "this is the day that the Lord has made" prepared and focused them for a religious service designed and expected to speak to their present, their past, and their future. They would have participated in a choral prayer and gospel music that could evoke tears and inspiration. They would have listened to Reverend Luter's gospel message. Those were some of the church experiences that they missed and that made them determined to rebuild their church communities and the physical structures that housed them.[12]
Sunday services represented only part of the life of African American churches. C. Eric Lincoln and Lawrence H. Mamiya, two eminent scholars of African American religion, noted that the churches "continue to interact with and play important roles in the politics, economics, and education of African Americans." Few individuals wanted to imagine a post-Katrina "new" New Orleans without the churches. Bishop Paul S. Morton, the head of one of the largest African American churches in the Gulf South, Greater St. Stephen Full Gospel Baptist Church, stated a view held by many: "There is no reason to try to rebuild New Orleans without rebuilding the church. I wouldn't want to live in a city without the church." Morton and other religious leaders understood that before churches and church leaders could help rebuild New Orleans, they first had to rebuild church communities. They faced the daunting challenge of reconstruction amid the physical wreck and ruin of New Orleans. Water, often symbolizing life-giving or life-renewing power in Christian traditions, had been transformed into a toxic reality that defiled the sacred sites of African American life.[13]
The images and stories that chronicled Hurricane Katrina's devastation made the human toll of the tragedy easy for Americans to understand. And despite the thoughts and comments of people who questioned why individuals had not evacuated, most Americans responded with compassion and a desire to assist in the city's recovery. Many acted on those feelings; tens of thousands of volunteers traveled to New Orleans and the Gulf Coast region to participate in vital recovery activities, and many of the volunteers were members of churches, synagogues, and temples.[14]
Accepting assistance from others, even help from churches of the same denomination, placed some church leaders and members in an unfamiliar position. They were accustomed to providing assistance, not receiving it. Reverend Edwards and members of Bethany United Methodist Church welcomed the help of volunteers and monetary donations, and received both. Although attending membership is down by 50–55 percent, Bethany achieved an important goal: the pastor and the members themselves had worked to restore it. He acknowledged the hard work that went into restoring the church, but what he remembered most was the excitement and enthusiasm displayed throughout the rebuilding process. Reverend Edwards and Bethany church members have committed to make their church and their work, in their words, "better than before."[15]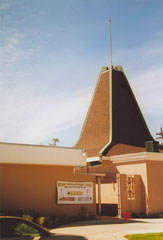 The Bethany United Methodist Church, located a few blocks from Lake Pontchartrain, was fully restored thanks to the efforts of its pastor, its members, and other volunteers and donors. Photo by Donald E. DeVore. Courtesy Donald E. DeVore.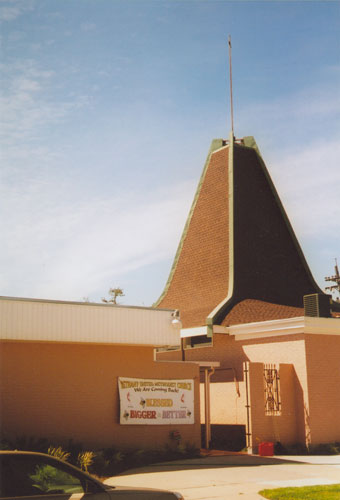 The Bethany United Methodist Church, located a few blocks from Lake Pontchartrain, was fully restored thanks to the efforts of its pastor, its members, and other volunteers and donors. In this photograph taken in April 2007, the church shows no traces of the damage caused by the approximately eleven feet of water that flooded its sanctuary after Hurricane Katrina. The sign reads, "We Are Coming Back! Blessed Bigger Better," a testimony to the congregation's commitment. Photo by Donald E. DeVore. Courtesy Donald E. DeVore.
The term "better" became a familiar one as soon as New Orleans passed from the rescue and recovery phase to the rebuilding phase. The president, the governor, mayor, and countless others supported the vision of a better New Orleans. President George W. Bush addressed the nation two weeks after the storm, with Jackson Square as his symbolic anchor, and forcefully declared: "There is no way to imagine America without New Orleans, and this great city will rise again." Bishop James E. Daniel, the pastor of Philadelphia Ministries, a church with mainly working-class members and affiliated with the Pentecostal Assembly of the World, knew that for his church "better" would have a more complicated meaning.[16]
Located on St. Claude Avenue in the Lower Ninth Ward, the church took on thirteen to fifteen feet of floodwater. The Lower Ninth Ward experienced the worst of the city's flooding and was home to the majority of Philadelphia Ministries' members. Bishop Daniel recalled that seeing the destruction of his church and the surrounding area did not weaken his faith but "taught him to trust and depend on God for everything." Philadelphia Ministries has taken a leadership role in the Lower Ninth Ward's effort to be a part of a "better" New Orleans. Bishop Daniel said that the work of church leaders was based on their belief that "rebuilding the church does not stop at the destroyed building." He reached out to displaced members in many states to help them cope with their losses and to "keep the family together as a church and personal family." The Christian faith, as Bishop Daniel knows, derives its power and appeal from its communal nature. "When I began to galvanize the majority of the members," he remembered, "the main discussion focused on how the main sanctuary was destroyed and began to seek buildings for the ministry to continue worship service in Houston and Atlanta." The church currently meets in Houston and Atlanta, but church leaders consider the new locations temporary.[17]

Thread: Flooding in the Lower Ninth Ward Expand thread [+]
For some churches, such as St. Augustine Catholic Church, the oldest church in New Orleans with links to the African American population, the fight to be part of a "better" New Orleans has entailed a fight to even exist. Founded in 1841, St. Augustine is located in Tremé, one of America's oldest African American communities, and it has contributed much to the community. Before Katrina, the New Orleans Archdiocese recognized St. Augustine's importance and provided financial support to compensate for a decline in membership. The low membership, a concern before Katrina, became a major problem after the hurricane, threatening the church's continued existence as a parish.[18]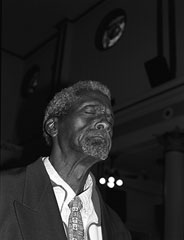 "Praying for a Miracle." George Forman, an usher at the church, prays along with the congregation to keep St. Augustine Catholic Church open. Photo by and © copyright Debbie Fleming Caffery. Courtesy Debbie Fleming Caffery, http://www.debbieflemingcaffery.com.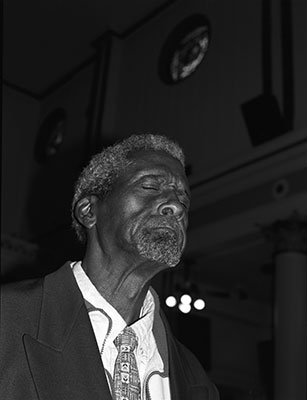 "Praying for a Miracle." George Forman, an usher at the church, prays along with the congregation to keep St. Augustine Catholic Church open. Photo by and © copyright Debbie Fleming Caffery. Courtesy Debbie Fleming Caffery, http://www.debbieflemingcaffery.com.
Archdiocesan churches and properties throughout metro New Orleans suffered extensive damage, and more than two-thirds of it was not covered by insurance. To address the crisis, archdiocese officials decided to close or consolidate some churches and schools. St. Augustine was scheduled for closing, and its parishioners were scheduled to join St. Peter Claver Catholic Church, an area church that also had a largely African American membership. The Reverend William Maestri, the director of communications for the archdiocese, described the financial dilemma that the archdiocese faced in unvarnished language: "The ever-present tension between mission and money has been greatly heightened." St. Augustine parishioners and supporters rejected the idea implicit in Reverend Maestri's statement: that their church should close because of a lack of money. For these faithful parishioners, their church offered the symbol and substance of their faith and hope as they struggled through the catastrophe. They bitterly rejected the idea that a lack of money would stop their church from being a healing presence in the community. Churches were a tangible marker of people's ability to knit back together the torn fabrics of their lives.[19]
Parishioners at other Catholic churches slated for closure or substantial changes in their mission also experienced anguish over the archdiocese's plans. "It saddens me," admitted a concerned Catholic in a letter to the city's daily newspaper, "that the Archdiocese of New Orleans is shutting our churches and schools. In the wake of Hurricane Katrina, we need our neighborhood churches more than ever." Archbishop Alfred Hughes and archdiocese leaders agreed. Reverend Maestri attempted to convey the church's commitment to the rebuilding effort: "The waters of Katrina can be transformed into those life-giving waters which create a new people in a new city; a dwelling where all are welcomed. Such a transformation, a grace, touches those in government, religion, business, and all entrusted with public life." Drawing on a rich tradition of black Catholic protest in New Orleans that had its taproots in the eighteenth century, St. Augustine parishioners and supporters temporarily occupied the rectory to protest the scheduled closing of their church. Although archdiocese leaders insisted that the protest would not influence their decision, they changed their plans and allowed St. Augustine to remain open.[20]
St. Gabriel the Archangel Catholic Church faced its own challenges after the hurricane. Located near Lake Pontchartrain in an all-black neighborhood, the church took on eight feet of floodwater. Unlike St. Augustine, however, St. Gabriel had a vibrant parish before the hurricane with more than eight hundred members. One member, Alvi Mogilles, described what St. Gabriel meant to her, other parishioners, and the community: "Before Katrina we had a very warm, sincere parish with lots of caring parishioners. The services at holidays were all breathtaking. The choir was fantastic. We had several ministries and you always felt needed. It was a parish with an open door and outstretched arms to receive you." According to another member, there was never any doubt that St. Gabriel would again open its doors to parishioners and the community. Still, members acknowledge the leadership of Father Doug Doussan in effectively communicating to archdiocese leaders the church's capacity to rebuild and the role the church needed to play in rebuilding the neighborhood. St. Gabriel was not scheduled for closing and received $500,000 from the archdiocese to help rebuild. Father Doussan and church members have decided to delay rebuilding the church structure. They are directing their efforts toward community outreach, including helping parishioners clean and repair their homes. Services are being held in the church once again, though with folding chairs instead of pews and folding tables serving as the altar. That resiliency and sacrifice epitomizes the best features of the African American church experience in New Orleans. Kermit Mogilles, a St. Gabriel parishioner who has participated in his church's outreach efforts, believes churches will be "beacons of hope to the revitalization of communities."[21]
His confident assertion encapsulates the hopes of many. The political stance of New Orleans's black Christians, however, should not be oversimplified or misread. Religious leaders know that faith-based initiatives alone cannot command the monetary resources necessary to rebuild a shattered city. But they see no fundamental contradiction between federal aid and grassroots action. They also understand the importance of religiously informed group solidarity in preventing the kind of psychological fragmentation that leads to defeat and despair. In the end, the outlines of a "new" New Orleans may be less about politics and race or concrete and steel, and more about the prophetic and communal role of the African American church.
[1] John McQuaid and Mark Schleifstein, Path of Destruction: The Destruction of New Orleans and the Coming Age of Superstorms (New York, 2006), 160–70; Avis A. Jones-DeWeever and Heidi Hartmann, "Abandoned before the Storms: The Glaring Disaster of Gender, Race, and Class Disparities in the Gulf," in There Is No Such Thing as a Natural Disaster: Race, Class, and Hurricane Katrina, ed. Chester Hartman and Gregory D. Squires (New York, 2006), 85–101; Jed Horne, Breach of Faith: Hurricane Katrina and the Near Death of a Great American City (New York, 2006), 41–72; Lee Hancock, "New Orleans Rescuers Race against Time," Dallas Morning News, Aug. 31, 2005, p. A1; Don Babwin, "Receding Water Reveals Scope of Storm's Tragedy," Shreveport Times, Sept. 9, 2005, p. A1; Evan Thomas, "The Lost City," Newsweek, Sept. 12, 2005, pp. 42–52; Julia Reed, "Hope in the Ruins," ibid., pp. 58–59.
[2] Alan Nossiter, "New Orleans Population Is Reduced Nearly 60%," New York Times, Oct. 6, 2006, http://www.nytimes.com/2006/10/07/us/07population.html. Amy Liu, "Building a Better New Orleans: A Review of and Plan for Progress One Year after Hurricane Katrina," Aug. 2006, Brookings Institution, http://media.brookings.edu/mediaarchive/pubs/metro/pubs/200608_katrinareview.pdf, pp. 26–28, 21; Greater New Orleans Community Data Center, http://www.gnocdc.org/, Oct. 12, 2006.
[3] Liu, "Building a Better New Orleans," 22; "Tending Their Flocks," New Orleans Times-Picayune, Aug. 5, 2006, p. B6.
[4] A 2006 survey indicates that approximately 82% of American adults self-identify as belonging to a Christian denomination and another 4–5% with some other religious faith. African Americans, including New Orleans's black population, do not differ in any significant way from the national pattern. Throughout the essay the term "black church" refers both to churches affiliated with one of the major black denominations and those black congregations affiliated with predominately white denominations. Irrespective of denominational or associational affiliation, all the churches and their members share a religious world view rooted in an African heritage and an understanding and tradition of Christianity shaped by their historical experiences in America. One aspect of that Christian tradition is central to this essay: the belief that black churches should play a constructive role in the political affairs of their communities. See Christopher Bader et al., "American Piety in the 21st Century: New Insights to the Depth and Complexity of Religion in the U.S.; Selected Findings from the Baylor Religion Survey, September 2006," Baylor Institute for Studies of Religion, http://www.baylor.edu/content/services/document.php/3304.pdf, pp. 7, 8; Milton C. Sernett, African American Religious History: A Documentary Witness (Durham, 1999), 3; and C. Eric Lincoln and Lawrence H. Mamiya, The Black Church in the African American Experience (Durham, 1990), 2–19.
[5] W. E. B. Du Bois, "The Problem of Amusement," in Du Bois on Religion, ed. Phil Zuckerman (Lanham, 2000), 21; Albert J. Raboteau, Slave Religion: The "Invisible Institution" in the Antebellum South (New York, 1978), 222, 318.
[6] William E. Montgomery, Under Their Own Vine and Fig Tree: The African-American Church in the South, 1865–1900 (Baton Rouge, 1993), 190; Leon F. Litwack, Been in the Storm So Long: The Aftermath of Slavery (New York, 1979), 470; Howard N. Rabinowitz, Race Relations in the Urban South, 1865–1890 (Urbana, 1980), 198.
[7] Robert Joseph Taylor, Linda M. Chatters, and Jeff Levin, Religion in the Lives of African Americans: Social, Psychological, and Health Perspectives (Thousand Oaks, 2004), 11–62; Anthony B. Pinn, The Black Church in the Post–Civil Rights Era (Maryknoll, 2002), 38–60, 64–65.
[8] Bruce Nolan, "Pastors Pray for Spiritual Rebirth," New Orleans Times-Picayune, Feb. 18, 2006, p. D1.
[9] Hadley R. Edwards interview by Donald E. DeVore, Oct. 7, 2006, notes (in Donald E. DeVore's possession); Coleman Warner, "Methodists Mull Future of Churches," New Orleans Times-Picayune, March 20, 2006, p. B1.
[10] James E. Daniel interview by DeVore, Oct. 9, 2006, notes (in DeVore's possession); Sharon M. Wells interview by DeVore, July 7, 2006, notes, ibid.; Wells interview by DeVore, July 8, 2006, notes, ibid.; Wells interview by DeVore, July 12, 2006, notes, ibid.; Alvi Mogilles interview by DeVore, June 10, 2006, notes, ibid.
[11] Bruce Nolan, "A Keystone Gentilly Church with a Charismatic Pastor Gets Some Much-Needed TLC from Volunteers," New Orleans Times-Picayune, Dec. 4, 2005, p. B1; Wells interviews, July 7, 8, 12, 2006.
[12] Mark Bonner, "Pastor Unites Scattered Flock," Advocate, Jan. 1, 2006, p. B1; Wells interview, July 8, 2006.
[13] Lincoln and Mamiya, Black Church in the African American Experience, 2–19, esp. 18; William Taylor, "Who Should Fund Faith-Based Work?," Advocate, Oct. 27, 2005, p. A1.
[14] Paul Krugman, "Storm Victims Face Misery by Design," New Orleans Times-Picayune, Oct. 5, 2005, p. B7; Bruce Nolan, "Answering the Call," ibid., Oct. 29, 2005, p. A1.
[15] Edwards interview.
[16] Howard Fineman, "Money, Money Everywhere," Newsweek, Sept. 26, 2005, pp. 24–31; Terence Hunt and Nedra Pickler, "N.O. Will Rise Again," Advocate, Sept. 16, 2005, p. A1.
[17] Daniel interview.
[18] James B. Bennett, Religion and the Rise of Jim Crow in New Orleans (Princeton, 2005), 144–45.
[19] Bruce Nolan, "Archdiocese Closes Seven Churches," New Orleans Times-Picayune, Feb. 10, 2006, p. A1; William Maestri, "Protesters Spurn a Good-Faith Compromise," ibid., March 31, 2006, p. B1.
[20] "Archdiocese Forced to Make Painful Decisions," ibid., Feb. 14, 2006, p. B6; "Attendance Picking Up," ibid., Feb. 25, 2006, p. B6.
[21] Alvi Mogilles interview; Kermit Mogilles interview by DeVore, Sept. 30, 2006, notes (in DeVore's possession).