"They're Tryin' to Wash Us Away": New Orleans Musicians Surviving Katrina
Bruce Boyd Raeburn
Journal of American History,

94 (Dec. 2007), 812–19
There has been a lot of post-Katrina talk about making Randy Newman's satirical ballad on the flooding of the Mississippi River, "Louisiana 1927," the new state song, and my title is taken from its refrain. "They're Tryin' to Wash Us Away" sums up the state of mind of many New Orleans residents these days, especially musicians. Those hard feelings are related to slow government relief efforts, statements by self-appointed pundits that the city does not "deserve" to be rebuilt, perceptions of racism tied to mismanagement of resources before and after the storm, and accusations that the city's levee systems were so faulty that the Federal Bureau of Investigation (fbi) is looking into possible corruption in their design, construction, and maintenance. Under such circumstances, the current state anthem, Governor Jimmie H. Davis's "You Are My Sunshine," seems bizarre and strangely inappropriate for the foreseeable future. But Davis's tune is actually much closer in spirit to the usual New Orleans musician's response to disaster; there has long been an inclination to use music to mitigate the harsh realities endemic to a city that finds itself perennially in harm's way. One can learn much about New Orleans by looking at how musicians respond to disaster and inquiring into how repertoire, the experience of exile, and the urban cultural environment have been affected by cataclysmic events, now and in the past. Catastrophe inevitably changes lives and forces individuals to adapt to unexpected and often painful realities, but it also affords opportunities for growth and discovery. Tradition, which always looms large in New Orleans culture, provides guidance and comfort, yet it remains dynamic. The drummer Johnny Vidacovich speaks for the city when he states: "Tradition can be a verb. It isn't over yet. It hasn't become history yet."[1]
An analysis of repertoire illustrates how New Orleans jazz musicians have indulged a predilection for escapism over the years. Unlike their Delta blues counterparts, they have steadfastly avoided topical songs about disaster. In 1938 Jelly Roll Morton talked to Alan Lomax at the Library of Congress about the Robert Charles riot (a murderous white rampage against the city's African American population in July 1900), but he never wrote a song about it. "Milneburg Joys," which evokes the relaxed ambience of picnics along Lake Pontchartrain, is characteristic of his penchant for themes reflecting joie de vivre. Most New Orleans composers fixate on the city's pleasure zones or on the behaviors associated with them. Clarence Williams's "West End Blues" is about another lakefront resort, and Spencer Williams's "Basin Street Blues" celebrates Storyville, the notorious red-light district "where the light and the dark folks meet."[2] Sam Theard's "(I'll Be Glad When You're Dead) You Rascal You" is about a randy houseguest, and his "Let the Good Times Roll" speaks for itself. The subtext of that "good time" mentality is the ever-present threat of destruction or retribution lurking just below the surface. Many Americans view New Orleans as a bastion of hedonistic corruption that must pay for its sins (the Southern Decadence festival, preempted by Katrina in 2005, is only the most recent target of such complaints). Since Katrina, that idea has achieved widespread circulation on conservative Christian media networks. The residents of New Orleans know they are vulnerable, but they do not want to be reminded of it. This is one of their many "blind spots," and avoidance of grim realities makes it difficult to prepare for them. Katrina exposed the fallacy of the city's "good time" ethos, and there are serious implications for its musical culture, rooted in the festival traditions of black neighborhoods that were largely destroyed. Yet that is precisely where the city seeks its inspiration for renewal.

Read an overview of New Orleans jazz More >
One musical ritual has assumed priority as a symbol for recovery: what tourists call a "jazz funeral"—it is better known among musicians as a "brass band funeral" because only dirges are permitted before the body is "cut loose" (separated from the procession) and the jazz begins. (The term "crack funeral" is a more recent variant, revealing the communal rage over casualties of drug wars who are buried with brass band accompaniment.) In Why New Orleans Matters, the writer and musician Tom Piazza sees the "jazz funeral" as symbolic of the resilience of New Orleans culture. But does his desire for the restoration of "a New Orleans that is New Orleans" mean returning to the poverty, squalor, and crime that existed before the storm? How can one avoid that outcome? The "jazz funeral" reveals that catharsis through music is a coping mechanism, a function of life in the city's poorest neighborhoods. The scholarship of the anthropologist Helen Regis on "second line" parades (which are not relegated solely to funerals) makes that point. In neighborhoods such as Tremé, Central City, and Gert Town, brass band music generates dancing in the street, inviting all within earshot to join in. The "second lines" enable communities beset by institutionalized racism, poverty, and high crime and mortality rates to maintain hope in spite of oppressive daily realities. When the "second liners" are on the streets, they "own" them, but if the landscape has been effaced, can it still be contested? One might argue, "yes, more than ever." Piazza fears that the city will turn into a theme park: "If you thought the contracts for Baghdad were fat, wait until you hear the cash registers ringing for Jazzworld."[3]
Traditions, however, can be contested as well as landscapes. In the black community there are contradictions, evident in the formation in 1993 of the Black Men of Labor, a social and pleasure club dedicated to the preservation of "traditional" parading. Accordingly, reports of the "restoration" of second lines in November 2005 as a "warmup" to the debut of trumpeter Irvin Mayfield's composition "All the Saints" (commissioned by the Christ Church Cathedral in New Orleans) were misleading, given that brass bands had been playing for parades since mid-October. Although church dedications have been a part of the second line heritage, using the ritual to promote a concert is another matter. Mayfield received considerable public funding before Katrina to maintain his New Orleans Jazz Orchestra, and he is represented as the city's "cultural ambassador." Does pandering to the desire of New Orleans residents for a renewal of their second lines justify his role as the primary beneficiary of the procession? If pressed, one would have to admit that this is business as usual. Over the past twenty years, ersatz second lines have been used to escort conventioneers from their hotels to receptions at the Cabildo (the flagship location of the Louisiana State Museum) or to the House of Blues (a nationally franchised nightclub), or to mourn a bad season for the Saints (a football team), or to provide a "taste of the real thing" to tourists attending the New Orleans Jazz and Heritage Festival, which is held at a racetrack. Mayfield is bringing back what existed before Katrina, and he is being applauded for it.[4] And who can blame him? Musicians are professionals who expect to be paid for their services, and Mayfield is negotiating in a very competitive market.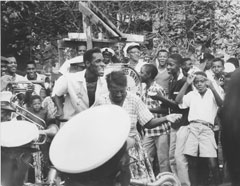 The "second line" accompanying a parade with the Young Tuxedo Brass Band in Algiers, Louisiana, in 1959. Photo by Ralston Crawford. Courtesy William Ransom Hogan Archive of New Orleans Jazz, Tulane University.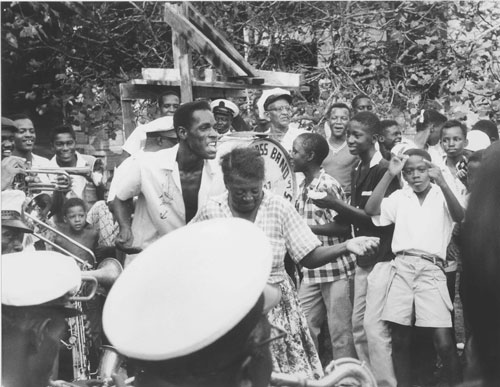 The "second line" accompanying a parade with the Young Tuxedo Brass Band in Algiers, Louisiana, in 1959. Second lines have long inspired dancing and hope in New Orleans neighborhoods, and they remain a vital but contested musical tradition after Hurricane Katrina. Photo by Ralston Crawford. Courtesy William Ransom Hogan Archive of New Orleans Jazz, Tulane University.
Distinctions between "authentic" (or community-based) representations of New Orleans music and market-driven versions that conform to trends in the music industry (or bolster cultural tourism) may not matter to musicians who are primarily concerned with survival. Music can keep one immersed in the culture, or it can provide a way out. Jelly Roll Morton, Joe Oliver, Sidney Bechet, and Louis Armstrong sought greener pastures elsewhere and succeeded as a result, just as Branford Marsalis, Wynton Marsalis, Terence Blanchard, and Harry Connick Jr. have done in recent years. They all chose to leave and were free to return (although most did not). For those who fled Katrina, lack of housing often precludes repatriation. Habitat for Humanity's Musicians Village (a cooperative housing project in the Upper Ninth Ward conceived by Branford Marsalis and Connick) promises solutions, but implementing it has been problematical. Eligibility protocols have eliminated most of the brass band musicians because their credit histories are insufficient. Others have rejected the concept as a "ghetto in disguise."[5] In fact, the consequences of poverty did not wash away. What those musicians really want is to return to the neighborhoods they left behind, and many will remain in forced exile until that can happen. For them, the catharsis brought about by the "jazz funeral" and second line traditions is not possible on foreign terrain.
For those who do return, homecomings are often traumatic. The clarinetist Dr. Michael G. White, a professor at Xavier University of Louisiana, lost everything in his Gentilly home, including many unique documents relating to New Orleans jazz history. (See White's article in this issue.) In an account of his return home from Houston he stated: "It reminds me of one of those 'Twilight Zone' episodes where I'll go in and find my own body." The writer Jason Berry, who convinced the clarinetist to make the trip, suggested that some things might be salvaged. "At this point," White answered, "I'm trying to figure out if I can be salvaged. I tried very hard to picture what this would be like, but you can't begin to imagine. The hard part is that there's a lot of history here that can't be replaced. It's all gone. I'm overwhelmed. I wouldn't know where to start." Elsewhere in the article, however, White gives the impression that the healing has already begun. In Houston he landed a regular "jazz brunch" engagement and wrote "two positive, upbeat songs about a restored New Orleans." In reflecting on the past, White reiterates the message of the "jazz funeral," in which the spirit of the deceased is "cut loose" to enjoy a better life in the great beyond. Death is followed by rebirth. "I have to keep remembering that," he says. "That's what gives us the courage to carry on." He is certainly not alone. Among the musicians who have lost everything are Fats Domino, Irma Thomas, Aaron Neville, Dave Bartholomew, Wanda Rouzan, Sybil Kein, Al "Carnival Time" Johnson, Pete Fountain, and Henry Butler.[6]

Media: Musical example. More [+]
The idea of "remembering" is intrinsic to accounts of exile by New Orleans musicians and can be considered as part of a broader narrative encompassing all music of the African diaspora. As a literary theme, it is particularly well developed in the clarinetist Sidney Bechet's memoir, Treat It Gentle. In the final chapter, "It's the Music and It's the People" (which conveniently answers the rhetorical question implicit in the book's title), Bechet evokes the "spirit tides" that connect him to his African heritage:
What I have to say, it's what the music has been saying to me and what I've been saying to it as far back as I can remember. The music makes a voice, and, no matter what happens, the man that cares to hear that voice, he can hear it. I don't mean there's any end to the things that make it hard for the people to hear the real voice the music has got in it. All I mean is that the music is still there for any who want it. . . . The blues, and the spirituals, and the remembering, and the waiting, and the suffering, and the looking at the sky watching the dark come down—that's all inside the music. And somehow when the music is played right it does an explaining of all those things.[7]
The message is unmistakable: music will get you through anything if you let it, and Bechet tested that theory regularly. For those familiar with his life, the title "Treat It Gentle" is more than a little ironic, because Bechet's passion as a musician was matched by his rage. He found himself on the wrong side of the law quite often, including several arrests followed by deportation and eleven months in a French prison for a shooting incident in 1928. Quite a bit of rage is floating around New Orleans these days, so Bechet's admonition that "it's the music and it's the people" serves as a reminder that broken buildings can be repaired, but broken spirits are a more difficult proposition. Musicians can restore a sense of mastery and control (and channel the rage) through the performance of their craft, despite the incidence of despair and hopelessness. By affirming life in the moment, they make a better future seem possible, yet some would go further.
A number of musicians have become proactive in addressing political and environmental issues, a decided contrast to the escapist norm. Astral Project, a modern jazz quartet that has been together for thirty years, was on the road in Seattle when Katrina made landfall in late August 2005. While everyone else was trying to get out of town, they were attempting to get back in. On November 25, the band was performing at Snug Harbor, a modern jazz establishment on Frenchmen Street in the Faubourg Marigny. The entire block was vibrating with people reconnecting, swapping stories of forced exile. The band's drummer, Johnny Vidacovich, learned that his wife and daughter had evacuated to Houston while he was in Seattle. After a brief reunion in Texas, he was back on the road with Astral Project, then returned to Houston as a "drummer for hire" so he could be near his family. Vidacovich's response to Katrina had actually begun well before the storm. In January 2005 he participated in a recording session for the blues guitarist Tab Benoit's Voice of the Wetlands compact disc (cd), released in September 2005. Long aware of the need to combat coastal erosion because of his endangered fishing camp near his hometown of Houma, Louisiana, Benoit organized the nonprofit Voice of the Wetlands foundation in 2003, and the money to produce the Voice of the Wetlands cd came from a 2004 concert that became an indoor event as the result of Tropical Storm Matthew. Katrina came as no surprise to Benoit: "People that live on bayous close to the Gulf have been dealing with floods every four or five years. We've been flooding more and more from less and less of a storm. For the city, the state, and the country, Katrina and Rita were a rude awakening: 'Oh Lord, where did this come from?' Well, this has been brewing for a long time." He lost his camp as a result of Hurricane Rita, which only strengthened his resolve to spread the word on restoring the wetlands: "I'm on a mission. It's a way to reach people and talk to them. I don't like giving speeches between songs, but now they want to hear it. I can get them to understand and write their congressmen, flood them with support for Louisiana. That's the most important thing people from outside the state need to be doing."[8]
Benoit is not the only musician using performances to raise consciousness about Louisiana relief efforts. When Katrina hit, Don Vappie—a guitarist and traditional jazz bandleader with an illustrious Creole heritage—and his Creole Jazz Serenaders were on tour, performing at a folk festival in Maine. Festival officials were kind enough to secure a few days additional lodging for them before they dispersed to try to make it home (or as close as they could get). Vappie and his wife sat in with various groups as they worked their way south, but the saving grace for the couple was the cache of cds they had brought to sell on the road. When they finally got to their home in Covington, on the north shore of Lake Pontchartrain, there was a good deal of destruction, with many fallen trees, but other things, such as a rake leaning against the side of the house, remained remarkably undisturbed. When Vappie performed at Café Brasil on Frenchmen Street on November 27, 2005, half of his musicians were substitutes because several regulars had children in school elsewhere and could not attend. Vappie exhorted the crowd to march on Washington, D.C., if necessary, to force the politicians to remember the human face of a disaster they now seemed to want to forget. Toward that end, he has utilized public broadcasting to make his case, as the subject of American Creole, a film by Michelle Benoit and Glen Pitre that traces his anguish and courage in the wake of Katrina. Of course, not all musicians have been so actively involved. Another musician summarized his response as "drink a lot of whiskey and smoke a lot of weed."[9]
Maybe that attitude reflects the realization that Katrina was certainly not New Orleans's first disaster and is not likely to be its last—a fatalism born of a difficult history. Devastation of the French Quarter by fire in the Spanish colonial period, yellow fever and cholera epidemics in the nineteenth century, occupation by federal troops during the Civil War, major race riots in 1866 and 1900—one need not even mention hurricanes to make the point. When they are included, however, Hurricane Betsy in 1965 is the usual comparative benchmark, but the great hurricane of 1915 was probably much closer to Katrina in scope. That storm would be classified today as a category 4 storm, and at the time it was the worst hurricane on record. It made landfall at Grand Isle, Louisiana, on September 29, and the New Orleans Times-Picayune reported the next day that "scarcely a house in New Orleans escaped without some damage." The parishes south of the city were completely inundated, including numerous towns and plantations.[10]

Glossary: Yellow Fever More [+]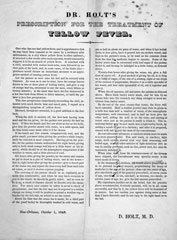 Dr. Holt's prescription for the treatment of Yellow Fever. New Orleans, October 1, 1843.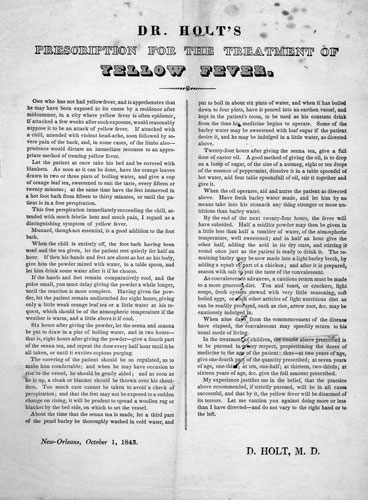 Dr. Holt's prescription for the treatment of Yellow Fever. New Orleans, October 1, 1843.
During the nineteenth century, as much as one third of the population of New Orleans evacuated the city between July and October, fearing the diseases that spread during those months. Yellow fever, cholera, malaria, and smallpox were among those poorly understood and often untreatable diseases that preyed upon the city's residents.
Major epidemics of yellow fever, nicknamed Yellow Jack and Bronze John, raged through New Orleans in 1853, 1878, and 1905. During the 1853 epidemic, an estimated eight to eleven thousand inhabitants of the city died. Many of the dead were quickly buried in shallow mass graves, and the cemeteries literally overflowed with rotting corpses, due to the heat, torrential rains, and the city's famously high water table.
To fight the disease, the city burned "smoke pots" in the streets to combat the infectious "miasma" or foul air that nineteenth-century experts believed caused most disease. Inadvertently, the smoke did help kill mosquitoes, the source of yellow fever. It was not until the early twentieth century that scientists identified mosquitoes as the carrier of the disease and pinpointed the stagnant water in the New Orleans's gutters, cisterns, and swamps as their breeding ground. Those discoveries allowed public health officials to effectively combat yellow fever by removing its causes and alleviating the squalid and overcrowded living conditions among the poor that contributed to the spread of the disease.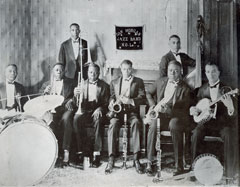 The formation of the Sam Morgan Jazz Band, shown here c. 1927, was the result of the migrations of musicians after the great hurricane of 1915. Courtesy William Ransom Hogan Archive of New Orleans Jazz, Tulane University.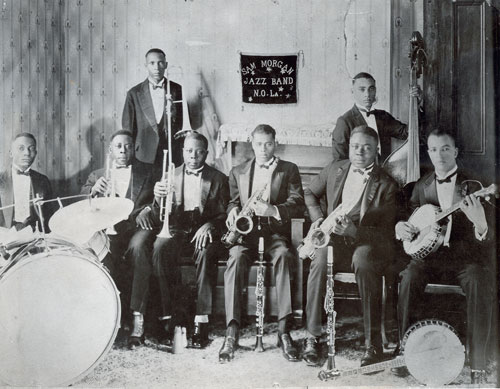 The formation of the Sam Morgan Jazz Band, shown here c. 1927, was the result of the migrations of musicians after the great hurricane of 1915. The band's members included (seated, from left to right) Nolan Williams, Isaiah Morgan, Sam Morgan, Earl Fouché, Andrew Morgan, Johnny Dave, and (standing, from left to right), Nathan "Jim Crow" Robinson and Sidney "Jim Little" Brown. Courtesy William Ransom Hogan Archive of New Orleans Jazz, Tulane University.
The consequences of the 1915 hurricane for jazz history are worth considering. Informants in interviews conducted by Tulane University's William Ransom Hogan Archive of New Orleans Jazz from 1958 through 1978 routinely referred to the hurricane to establish chronology, but for a number of musicians, the storm's impact went much deeper. The trombonist Jim Robinson and his nephew, the bassist Sidney Brown, grew up on Deer Range plantation, on the west bank of the Mississippi River in Plaquemines Parish. They were pupils of James Brown Humphrey, an itinerant music "professor" from the city hired to provide recreational enrichment for workers as a means of keeping them on the plantation. Instead, such training enabled his "scholars" to seek work in New Orleans, and the pair arrived in search of musical opportunities just prior to the hurricane. Afterward, because Deer Range was wiped off the map when the river levee gave way, their die was cast. From the east bank, in Bertrandville, near the Belair plantation, the trumpeters Sam and Isaiah Morgan had also just moved to New Orleans before the storm but returned to Belair to ride out the rough weather. The devastation in Plaquemines convinced them that the city would be safer than the country, and they settled easily in the French Quarter, very near Robinson and Brown in Tremé. Within a few years the refugees joined with some local musicians to form the Sam Morgan Jazz Band, a fusion of rural and urban sensibilities that was unique among New Orleans bands of the period, as amply demonstrated by its recordings for Columbia Records in 1927.[11] The band was, in essence, created by the forced migration caused by the hurricane of 1915. In the history of Louisiana music, such occurrences are not uncommon.

Glossary: Hurricanes along the Gulf Coast More [+]
Hurricane Katrina, the most expensive storm in U.S. history, is only the most recent hurricane to affect the U.S. gulf coast. Since the turn of the twentieth century, several notable storms have hit the region, bringing death and destruction to countless coastal communities.
The deadliest hurricane in U.S. history made landfall on the afternoon of September 8, 1900. A category 4 storm, the Galveston Hurricane arrived with little warning and beat the city with over 100 mph sustained winds until late into the night, killing over 8000 residents, and leveling 12 city blocks.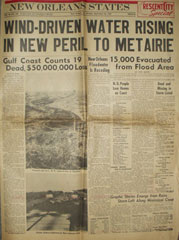 New Orleans States, September 22, 1947. "Wind-driven water risingin new peril to Metairie." Courtesy Hurricanecity.com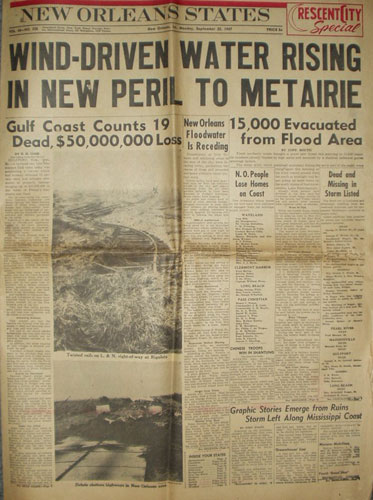 New Orleans States, September 22, 1947. "Wind-driven water risingin new peril to Metairie." Courtesy Hurricanecity.com
The 1947 Fort Lauderdale Hurricane devastated parts of Florida before reenergizing over the Gulf of Mexico and making a second landfall in New Orleans on the morning of September 19. A direct hit, the category 3 hurricane flooded Metairie and other areas near the 17th Street Canal.
In 1965 Hurricane Betsy became the first hurricane to cause damages in excess of $1 billion. "Billion-dollar Betsy" was a category 3 hurricane, and it slammed into New Orleans on September 9, driving a storm surge into Lake Pontchartrain and overwhelming the Industrial Canal levees. Flooding in the Lower Ninth Ward reached the eaves of several homes and over the roofs of others.
On August 19, 1969, Hurricane Camille ravaged the Mississippi coastline with record-setting intensity. The strongest storm to ever make landfall along the Gulf Coast, Camille's 190 mph sustained winds and a 25-ft storm surge stripped the land of all man-made structures within a half mile of the ocean and caused flooding as far north as Virginia.
Hurricane Georges was the second major hurricane of the 1998 Atlantic hurricane season. It made seven landfalls in six different countries before coming ashore near Biloxi, Mississippi, on September 28. Despite being only a category 2 hurricane, the impact of Georges was felt throughout the gulf region. Parts of Mississippi, Louisiana, Georgia, Florida, and Alabama endured 8- to 10-foot storm surges, torrential rains, and multiple tornados; however, due to advance warning and well-executed evacuation plans, the death toll from Hurricane Georges is low.
The 2005 Atlantic hurricane season was one of the most active on record. It spawned Katrina and six other major hurricanes, of which three—Dennis, Wilma, and Rita—made landfall in the United States. The 2005 Atlantic hurricane season was responsible for over 2,000 deaths and damages of over $125 billion.
Roger Wood's Texas Zydeco tells a similar story of musicians in southwest Louisiana following the 1927 flood. Rural black Creoles were washed off their land and migrated to Port Arthur, Beaumont, and Houston, Texas, where the music known as "la-la" fused with the urban blues music indigenous to that region. The result, Wood argues, was a new sound that came to be known as "zydeco"—a word that "was established initially in Houston, not Louisiana." Texas Zydeco thus challenges the long-established Louisiana pedigree of that music and describes how "many of its most significant innovations have originated in southeast Texas, right up to today." The Louisiana Music Commission will not be pleased to learn this, and, as if that were not enough, Wood has stated that the presence of so many New Orleans musicians in Houston after Katrina reminds him of the events of 1927. It is likely that the musicians who have found plentiful work in Houston or elsewhere will not want to return to New Orleans if it means settling for less.[12]
As I write this, more than a year has passed since Katrina, and recovery remains uncertain. The Cultural Committee of Mayor C. Ray Nagin's Bring New Orleans Back Commission estimates that only 250 musicians (less than 10 percent of the pre-Katrina population) have returned are not encouraging.[13] If the musicians do not come back, the culture will die. It is a precarious situation, perhaps beyond human capability to predict or even influence outcomes. Yet music is intrinsic to the way people have lived in New Orleans, and what the musicians do will have far-reaching consequences for the city's future. History confirms that not all disruptions occasioned by disaster have negative results: the accomplishments of Sam Morgan's band and the emergence of zydeco were born of such circumstances. At best, exile (a prerequisite for any New Orleans musician who wants to make big money, it would seem) sets up the possibility of homecoming, a celebration of roots, memory, and history, but it also anticipates change.
At the 2006 New Orleans Jazz and Heritage Festival, practically every New Orleans musician had a song about Katrina, inaugurating what promises to become a torrential (and often critical) outpouring. Not surprisingly, social activism is on the rise. The willingness of Vidacovich, Benoit, and Vappie to associate themselves with wetlands recovery and relief efforts, even if that means tempering the tawdry "good time" sensibility that tourists have come to expect, is a telling sign. Maybe escapism has run its course. When asked, in an interview attending the publication of Why New Orleans Matters, if a New Orleans "that still matters" could survive Katrina, Piazza responded: "If any city can, New Orleans can, because New Orleans has a tradition of incorporating the fact of mortality and tragedy and disaster in its understanding of life."[14] Those are hopeful sentiments, and one is eager to subscribe to them, which is another way of saying that many displaced musicians may find a way back to New Orleans simply because they are culturally programmed for a life-style that only makes sense here. If that is the case, fatalism may be working in the city's favor this time.
[1] Randy Newman, "Louisiana 1927," performed by Randy Newman, Good Old Boys (1974; compact disc; Rhino Records B000065DWH; 2002); Jimmie H. Davis and Charles Mitchell, "You Are My Sunshine" (New York, 1940). Johnny Vidacovich quoted in Samuel Charters, New Orleans: Playing a Jazz Chorus (New York, 2006), 181.
[2] Spencer Williams, "Basin Street Blues" (1928; New York, 1933).
[3] Tom Piazza quoted in Susan Larson, "He Gets It," New Orleans Times-Picayune, Nov. 16, 2005, pp. D1, D3; Tom Piazza, Why New Orleans Matters (New York, 2005), 26–31; Helen A. Regis, "Second Lines, Minstrelsy, and the Contested Landscapes of New Orleans Afro-Creole Festivals," Cultural Anthropology, 14 (no. 4, 1999), 472–504.
[4] "Banding Back Together," New Orleans Times-Picayune, Nov. 17, 2005, p. B1. I heard the testimony of musicians who played for parades in October 2005 at the Cutting Edge Music Business Conference, "Roots Music Tradition Bearers—Post Hurricane Conversation," in New Orleans on August 25, 2006. Henry C. Lacey, "Other Opinions: Time to Face the Music—Blueprints, Visions for Rebuilding," New Orleans Times-Picayune, Nov. 27, 2005, p. B15.
[5] Leslie Williams, "Habitat for Harmony: Musicians Village to Help Nurture Jazz Traditions," New Orleans Times-Picayune, Dec. 7, 2005, pp. B1, B3; Katy Reckdahl, "They Got It Bad," June 29, 2006, OffBeat, http://offbeat.com/artman/publish/article_1596.shtml.
[6] Michael G. White, "Reflections of an Authentic Jazz Life in Pre-Katrina New Orleans," Journal of American History, 94 (Dec. 2007), 820–27; Keith Spera, "Facing the Music: Valuable Jazz Artifacts Drown in Floodwater," New Orleans Times-Picayune, Oct. 22, 2005, pp. B1, B3. Lynne Jensen, "Return Home Has Pianist Henry Butler Singing the Blues: He's Uncertain Whether He'll Live in New Orleans Again," ibid., May 10, 2006, pp. A1, A5.
[7] Sidney Bechet, Treat It Gentle (New York, 1960), 217–18.
[8] Keith Spera, "Wetlands Troubadours," Lagniappe, arts and entertainment section of the New Orleans Times-Picayune, Nov. 25, 2005, pp. 16–17; Tab Benoit, Voice of the Wetlands (compact disc, Rykodisc, B000ASATCG; 2005); Voice of the Wetlands, http://www.voiceofthewetlands.com/.
[9]American Creole: New Orleans Reunion, dir. Michelle Benoit and Glen Pitre (Cote Blanche Productions, 2006).
[10] "Wires Down—City Cut Off from Outside," New Orleans Times-Picayune, Sept. 30, 1915, p. 1. See also "History of the Storm," ibid., Oct. 1, 1915, p. 1.
[11] Jim Robinson interview by William Russell and Richard B. Allen, Dec. 10, 1958, transcript, reel I, pp. 3, 12 (William Ransom Hogan Jazz Archive of New Orleans Jazz, Tulane University, New Orleans, La.); Sidney Brown interview by Russell and Ralph Collins, May 27, 1960, transcript, reel I, pp. 1, 3, ibid. Isaiah Morgan interview by Russell and Allen, Dec. 1, 1958, transcript, reel II, p. 6, ibid.
[12] Roger Wood, Texas Zydeco (Austin, 2006), 5, 74; Roger Wood to Bruce Raeburn, e-mail, Nov. 28, 2005 (in Bruce Boyd Raeburn's possession).
[13] Howard Reich, "A Crisis of Culture in New Orleans: Battered by Katrina, the Cradle of America's Artistic Identity Might Never Recover Its Vitality," Chicago Tribune, July 2, 2006, p. 2; "Report of the Cultural Committee: Mayor's Bring New Orleans Back Commission," Jan. 17, 2006, http://www.bringneworleansback.org/Portals/BringNewOrleansBack/Resources/BNOB%20CULTURAL%20PPT%20FINAL.pdf, p. 9.
[14] Keith Spera, "Songs in the Key of K," New Orleans Times-Picayune, Sept. 2, 2006, pp. C1, C3. Tom Piazza interview by Fred Kasten, Nov. 16, 2005, audiotape (in Raeburn's possession).