The Post-Katrina, Semiseparate World of Gender Politics
Pamela Tyler
Journal of American History,

94 (Dec. 2007), 780–88
When the New York Times reported "a wave of citizen activism" in New Orleans after Hurricane Katrina, it failed to mention that much of the wave was wearing lipstick and carrying a purse.[1] Mopping up is, and always has been, women's work, so it comes as no surprise that large numbers of local women were active in post-Katrina recovery efforts in New Orleans. While some worked singly, volunteering their help in countless ways, others chose the timeworn path of women's associations. This essay focuses on the activities of three organizations formed by women after the hurricane: Citizens for 1 Greater New Orleans [link], the Katrina Krewe [link], and Women of the Storm [link].

Links: Visit the sites and organizations mentioned in this article. [+]
In the weeks after Katrina, educated, economically comfortable women in New Orleans passed through historically familiar stages that led from a growing awareness of unmet needs, to frustration over official ineptitude, to the formation of women's organizations, which flowered into full-blown women's activism. Indignation over the failure of government galvanized New Orleans women as it had women reformers of the Progressive Era, with whom they have much in common. As women have done for decades, they responded by joining with like-minded women and pursuing a course of activism to bring change.
The experiences of these New Orleans women activists reprise themes of Progressive Era women who battled along a broad front of issues, including the prevention of cruelty to animals, the care of the mentally disabled, consent laws for marriage, and better teacher salaries. These activist women in post-Katrina New Orleans exemplify the silk-stocking tradition of reformism, which has a long history in the Crescent City. In the 1890s, the Women's League for Sewerage and Drainage, led by the sisters Jean and Kate Gordon, of later woman suffrage fame, advocated a modern sewerage and drainage system to curb the periodic epidemics and flooding caused by primitive waste disposal methods and entirely inadequate drainage, which the city had done nothing to improve. Their energetic work resulted in the passage of a property tax increase; the New Orleans press claimed that their small women's pressure group "probably did as much work for the special tax as all the men in this city put together." After 1920, enfranchised New Orleans women frequently participated in electoral campaigns under the banner of "good government" to oust individuals they labeled "corrupt." Their unpaid work of lobbying, canvassing, monitoring, and publicizing often bore fruit. Women pressed state and local governments to adopt measures to protect women and children in factories, to close saloons on election day, and to pay male and female school teachers equally. Elite women reformers became darlings of the local media, as press coverage typically lauded their efforts and praised their motives.[2]

Thread: Constructing a modern levee system Expand thread [+]
Civic leaders, buoyed by a heady combination of Progressive optimism and New South boosterism, hoped to redeem the city's reputation by reclaiming its wetlands. Follow thread in Kelman, "Clarifying New Orleans's Murky Edges" >
New Orleans women reformers of those earlier eras made use of the southern lady mystique and the magic cloak of privilege as they worked toward their goals. Woven of manner, speech, and social connections, enhanced by the wardrobe and confidence that money can buy, that cloak guaranteed them entrée and helped shield them from criticism. In the wake of Katrina, New Orleans women of the economic elite, equipped with similar advantages, again donned that cloak and stepped forward to work for reforms that they found compelling.

Thread: Preservation Efforts in the French Quarter Expand thread [+]
Ruth Jones (Ruthie) Frierson, the founder of Citizens for 1 Greater New Orleans, enjoyed unassailable social position; her husband's status as a former Rex, king of Carnival, meant that the Friersons were a kind of local royalty. She had also earned a reputation as the city's top-selling agent for residential real estate. Concern and frustration over the stalled Katrina recovery motivated her to embark on a time-consuming, unpaid effort at reform. Like many New Orleanians, Frierson feared that negative perceptions about her hometown were retarding recovery. Investors clearly feared putting their money into New Orleans property without a guarantee that the Katrina catastrophe would not be repeated; residents and businesses hesitated to return, for the same reason. However, even if the U.S. Army Corps of Engineers upgraded and armored the levees, discredited local entities would still be responsible for their maintenance. Frierson's concern focused on the balkanized New Orleans area levee system, which was under the jurisdiction of no fewer than eight separate levee boards. Politicized levee board members had expanded their authority far beyond inspection and maintenance of floodwalls. Compared by a local political reporter to "Afghan war lords: inscrutable, immovable, and immutable," the multitasking Orleans Levee Board members managed casinos, developed real estate, owned a lakefront airport and two marinas, and patrolled the board's holdings with its own uniformed police force.[3]
Three months after the storm, a proposal to reorganize and professionalize the patronage-ridden levee system failed in the state legislature, where, despite strong backing from the region's business community, the bill never even made it out of committee in the House of Representatives. A conversation between a frustrated Frierson and her equally distressed neighbor Jay Lapeyre, chairman of the New Orleans Business Council, led her to mount a massive petition drive to force a reconsideration of the levees legislation. Just after Thanksgiving 2005, Frierson, who later commented that "people have gone from mourning to outrage," hosted a gathering of over one hundred indignant individuals in her home, in the affluent Audubon Park neighborhood. They formed a group called Citizens for 1 Greater New Orleans with Frierson as head. The group's goal was to end the crony-filled fiefdoms of the incompetent levee boards.[4]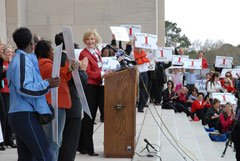 The group Citizens for 1 Greater New Orleans rallies for levee board reform at a special legislative session in Baton Rouge, Louisiana, in February 2006. Photo by Virginia Beck Horner. Courtesy Virginia Beck Horner.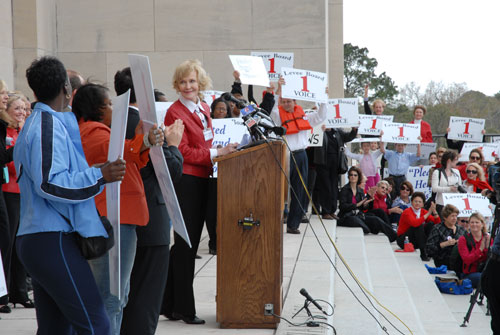 The group Citizens for 1 Greater New Orleans rallies for levee board reform at a special legislative session in Baton Rouge, Louisiana, in February 2006. The group's president, Ruth "Ruthie" Jones Frierson, stands at the podium, flanked by other members. Photo by Virginia Beck Horner. Courtesy Virginia Beck Horner.
Keenly aware of the warnings from Louisiana's congressional delegation that without reforms it would be difficult to convince Washington to allocate more relief, Citizens for 1 Greater New Orleans embarked on a campaign to bring deep systemic reform. Within the next few months, Frierson's group expanded its original mission to include a second and equally ambitious goal: to reform the byzantine system that employed seven city tax assessors, a vestige of late nineteenth-century machine politics. The entrenched New Orleans system for assessing real estate value was nothing more than whimsy fueled by personal relationships. People who cultivated assessors reaped the reward of low property taxes, the result of rampant underassessments. Frierson's group assumed the task of bringing transparency and formulaic regularity to property assessments in the city. Citizens for 1 Greater New Orleans argued that bringing competence and fairness to local government, especially regarding levees and taxes, would aid recovery by improving the city's national reputation.[5]
In a city whose storm-reduced population had not yet reached two hundred thousand, the group quickly collected fifty-three thousand signatures on a petition calling for levee board reform. They trained volunteers, then financed and carried out an expensive public education campaign to spur citizens to demand a levee board comprised of experts guided by principles, which conducted its business with transparency and without a hint of political patronage. Signs clamoring for action sprouted throughout the city like mold after the flood. The public uproar stimulated by Frierson's movement ultimately forced Governor Kathleen Blanco to call a special legislative session in February 2006. Clad in their trademark red jackets, Frierson and her associates lobbied relentlessly in Baton Rouge and became a notable presence during the twelve-day session.[6]

Thread: Population Post-Katrina Expand thread [+]
The ethnic geography of catastrophe: The failure of flood-protection and drainage systems did not neutralize topography. Follow thread in Campanella, "Ethnic Geography" >
Changes in New Orleans's population post-Katrina. Follow thread in Fussell, "Population History" >
The outcome was nothing short of amazing. A majority in the legislature voted to present to the state electorate measures that would consolidate the levee boards and the tax assessor system. In September 2006, 80 percent of the voters statewide approved a constitutional amendment for levee board consolidation, while an enthusiastic 97 percent of Orleans Parish voters agreed. Two months later, an amendment to dismantle the assessor system also won overwhelming statewide approval, passing with 78 percent of the vote. Seizing the moment presented by Katrina, Frierson's movement helped sweep away the arcane, entrenched levee and assessor systems, clearing the way for reforms. The independent weekly newspaper Gambit ranked the stunning consolidations of the levee boards and assessor system as the number one story of 2006.[7]
Garbage was the catalyst for the New Orleanian Rebecca Curry (Becky) Zaheri.[8] After Katrina, the thirty-eight-year-old Zaheri rented an apartment in Baton Rouge so that her children could enroll in school there. Her husband soon returned to his medical practice in New Orleans, and Zaheri and their two children commuted to spend weekends with him. The blight of the sodden, violated cityscape assaulted her senses on every visit back to her city. She quickly realized that city sanitation services, insufficient in normal times and now depleted of workers displaced by the storm, were utterly inadequate to the task of collecting garbage and the moldy contents of gutted houses. Even with the assistance of Federal Emergency Management Agency (fema) contractors, mountains of uncollected refuse and debris festered at curbside for weeks. The garbage problem seemed to grow exponentially, begetting an unprecedented outbreak of blatant littering and large-scale dumping. A frustrated Zaheri e-mailed friends to suggest a cleanup day; her first call brought fifteen women to pick up litter, clear sidewalks, and bag the unsightly mess on Thanksgiving weekend 2005. By Christmas, the group was staging two cleanups a week, and, at each, upwards of two hundred people turned out to participate.
Christening themselves the Katrina Krewe, Zaheri's group quickly harnessed a national desire to help. They set up committees, mastered the art of publicity, established a sophisticated Web site, and worked up a sweat twice a week, clearing block after city block. By early 2006, a phenomenal growth had occurred; volunteers were coming from around the country, and turnouts on cleanup days easily exceeded a thousand people. National broadcasters interviewed Zaheri repeatedly, boosting the Krewe's profile. Having started by spending over $2,000 herself on equipment, Zaheri soon tapped area businesses for bottled water, garbage bags, work gloves, and rakes; an auto dealer loaned vans for transporting and storing the supplies. The Katrina Krewe filed for 501(c)3 status under the federal tax code, making donations to it tax exempt. During Mardi Gras and spring breaks, college students came to help; foreign tourists added their muscle, and locals continued to rally to the cause. Zaheri directed the project with the assistance of ten board members, all women, most of them like herself, mothers of young children.[9]
Ultimately, the success of the Katrina Krewe exhausted Zaheri and her board. Zaheri felt obligated to respond personally to the voluminous e-mails she received, often numbering three hundred daily. Successful, twice weekly cleanups required significant advance work. Zaheri scouted locations, driving slowly through unfamiliar parts of the city to identify appropriately large, littered chunks of New Orleans that could fully occupy the labors of a thousand volunteers for three hours at a time. She and her team coordinated the delivery of supplies to the location, tried to arrange for city garbage trucks to collect the bagged debris, and dealt with the sheriff's office to obtain traffic control in their work areas. The city sanitation director estimated that the Katrina Krewe collected two hundred fifty thousand tons of debris and refuse.[10] But Zaheri noticed a frustrating pattern: cleaned blocks blossomed with junked appliances, discarded carpet, and routine litter all over again. The reliability of Katrina Krewe volunteer sanitation workers seemed to confirm New Orleanians in their rampant dumping and littering.
In summer 2006, the Katrina Krewe reduced cleanups to one per month and discontinued them entirely in the fall. In place of the cleanups, the women instituted new initiatives focused on enlisting neighborhoods, businesses, and schools to police their own areas, advertising an antilitter campaign through their Web site and through brightly painted signage that they purchased for the city. In a major new push aimed at teaching good habits to children, they established the kat (Kids Against Trash) Krewe. Working through schools, they distributed T-shirts, devised clever activities for building litter consciousness among young children, and hired members of Tulane University's drama department to write and perform antilitter skits for elementary school audiences. Like Citizens for 1 Greater New Orleans, the Katrina Krewe revised their goal to aim higher; they hoped to inspire New Orleanians to take charge of keeping their city clean, and, in particular, they hoped to instill better habits in an impressionable younger generation.[11]
The third group, Women of the Storm, owes its genesis to Anne McDonald Milling, a sixty-five-year-old seasoned community activist widely respected for her extensive civic involvement. Four months after Katrina, with many lawmakers indicating strong reluctance to finance the rebuilding of New Orleans, Congress still bickered over allocating aid for hurricane recovery. Notably, Speaker of the House J. Dennis Hastert had opined right after the storm that "it looks like a lot of that place could be bulldozed." In January 2006 Milling convened six women to elicit their help with a mission: Because local officials were too dysfunctional to lobby effectively for the city's needs, Milling proposed that a group of confident, articulate women travel to Washington, D.C., to establish personal contact with every Congress member's office. Convinced that a firsthand look at the extensive devastation would move lawmakers to vote for aid more effectively than any amount of lobbying, Milling planned to have the women extend personal invitations to every member to visit New Orleans on an expense-paid tour. For those who accepted the hand-delivered invitation, the women would offer much more than an eyeful of misery and a general wish list; they planned a carefully mapped city tour and a concise, factual, illustrated seminar on the need for wetlands restoration, levee reconstruction, and financial aid for homeowners.[12]
On January 30, 2006, 130 Women of the Storm boarded a chartered flight from New Orleans to Washington. Milling had raised the cost of the flight, commenting in an aside that reveals the advantages of her elite status, "If I can't raise $80,000 in a couple of hours, I'm no kind of a fund-raiser at all." The original nucleus of Milling's group, six white women of like status, knew each other well from years of activity in civic affairs and nonprofit organizations. The final group of 130 was organized in concentric circles, with the inner group reaching out to add others, who then did the same, and so on until the group reached its intended size. The participation of Hispanic, African American, and Vietnamese women, as well as women from Gulf Coast areas beyond New Orleans, provided a modicum of diversity.[13]
The seventeen-hour whirlwind trip to Congress required massive coordination. The inner circle had assigned each woman a partner for the Washington visit, with each pair responsible for four predetermined congressional offices as they carried out a full-court press on the afternoon of their visit. Earlier information sessions made all of the women conversant with the subjects of coastal erosion, levee protection, the extent of the city's losses, and the importance of New Orleans to the nation and the world. Armed with their trademark blue tarp umbrellas and joined by Louisiana's senior senator, Mary Landrieu, the women held a press conference on the Capitol steps, which cnn carried live.[14]
Leaving nothing to chance, the steering committee also formulated a dress code. Avoiding voicing assumptions about who might wear what, but obviously fearing that some women might violate the cultural norms of their own upper-class taste, they simply mandated "no jewelry, no plunging necklines." To explain the policy, a board member stated, "We wanted to be perceived as very serious."[15] Milling relied on some familiar stereotypes about the South and its women to explain their approach. "It's a natural thing for Southerners to do, ask people to come and visit. . . . Why not ask [members of Congress] to come down?" she said. Describing the persistence of her group, she commented, "One of the things women do well is nag. We nagged and nagged the congressmen. . . . And we [did] it with Southern grace."[16] A colleague conceded that "we do play off the southern charm." She paused to clarify. "And then we hit them with the wealth of our knowledge."[17]
When Women of the Storm approached Congress in early 2006, only 5 percent of the House and 12 percent of the Senate had seen the post-Katrina wreckage of the Gulf South; the remaining 498 lawmakers had no plans to do so. Personal invitations, persistent lobbying, follow-up contacts, and a second visit to Washington by the women helped turn the tide and thaw the apathy. Through spring and summer of 2006, members of Congress flowed into New Orleans, putting Women of the Storm into a dual show-horse/work-horse role. In public, self-effacing charm ruled as they hosted dinners, accompanied visitors on devastation tours, worked with the press, and facilitated seminars for their guests. Behind the scenes, it was hard work, details, and deadlines. Members of Congress routinely arrived on short notice, necessitating a scramble to arrange the press exposure and logistics critical to a successful visit. Scheduling spokespersons for tours and booking busy civic leaders for the informational seminars presented challenges. A preexisting edgy relationship between Louisiana's senators, the Democrat Mary Landrieu and Republican David Vitter, sometimes complicated the women's efforts, necessitating patience and tact to avoid irking either office. The six Republicans and four Democrats of the group's executive committee worked smoothly with visitors from both parties and at strategy sessions frequently repeated their watchword, "nonpartisan." To harness the abilities and connections of other women nationally, they enlisted the cooperation of four major national women's organizations—the Links, Incorporated; the Association of Junior Leagues International; the National Council of Jewish Women; and the Women's Initiative of the United Way—each of which pledged to support the Women of the Storm's goal.[18]
As of August 2007, fifty-seven senators and 122 representatives had accepted the women's invitation to travel to New Orleans, totaling 57 percent of the Senate and 28 percent of the House, up from 12 and 5 percent, respectively. Particularly gratifying to the Women of the Storm was the response of the previously dubious Speaker Hastert, who stated, "I saw things here I never expected to see in my lifetime, in my country. You have to be here firsthand on the ground to grasp the extent of the damage." Similarly, an initially crusty and skeptical Senator John McCain, after his tour in March 2006, stated emphatically to the press, "It's necessary for every member of Congress to come down here. You can't appreciate the enormity of it until you come down here. We have an enormous long-term environmental challenge here. . . . I am for doing what is necessary." Hastert's and McCain's conversions were representative of the reaction of most visiting lawmakers. Across the aisle, Senator Joseph Biden and Speaker Nancy Pelosi attested that Women of the Storm had had a significant impact in getting more attention for New Orleans. In June 2006, a previously reluctant Congress voted to appropriate an additional $4.2 billion for rebuilding Louisiana homes and businesses.[19]
As had elite women reformers in earlier eras, the women of Citizens for 1 Greater New Orleans, the Katrina Krewe, and Women of the Storm received accolades and much media attention. The major broadcast news programs, usa Today, Fortune Magazine, National Public Radio, Ladies Home Journal, the New York Times, the Chicago Tribune, and many Associated Press wire stories spotlighted the women and their work. President George W. Bush praised the Katrina Krewe in his speech on the first anniversary of Hurricane Katrina. Also meaningful to the women were the appreciative comments from local media and awards from many quarters.[20]
Unlike an earlier generation of New Orleans women, the elite women reformers after Katrina consciously attempted to avoid errors born of racism and elitism. Race and class undeniably generate important experiential differences among women, which often lead to differences in perception of needs. The historical record documents a series of troubled and suspicious alliances between white and black women suffragists, for example; and within the feminist movement, closer to our own times, the difficulties that middle-class white women, on the one hand, and working-class and black women, on the other, had in agreeing on a shared agenda also speak to differences in experience and perception.[21]
The white women of the inner circle of Women of the Storm intended to have African American women represented in their group. They invited two women of color, well educated and of comfortable economic status, to join the steering committee. Their contributions were welcomed; they apparently enjoyed a cordial working relationship with the group. By providing conditions for shared understanding, commonalities of gender and class seemingly mitigated any divide of racial difference that might have existed. Similarly, Citizens for 1 Greater New Orleans began with women of like background and expanded swiftly to become "metro-wide, diverse, and irresistible."[22] The Katrina Krewe harnessed the volunteer work of literally thousands who represented all regions, races, and experiences.
Certainly, status influenced priorities and positions; it is axiomatic that "where you stand depends upon where you sit." Applying the seating metaphor to the women of Frierson's, Zaheri's, and Milling's groups shows them enjoying box seats, not bleachers. For the most part, the upper middle-class women in this essay educated their children at private schools, lived in neighborhoods patrolled by private security, and did not require government-provided social services; as they sought to assist in the recovery of New Orleans, they did not choose to address weak public schools, inadequate police, or absent social services. That their lives were such bastions of comfort and security allowed them the luxury of concentrating first on large systemic reforms, changes that might have seemed abstract to New Orleanians reeling from flood losses, seeking an affordable apartment or a reopened public school, and struggling with the intractable bureaucracy to rebuild in a depopulated post-Katrina neighborhood. These women's goals of achieving professional, streamlined levee boards, fair and professional tax assessments, clean neighborhoods, an enlightened coterie of New Orleans youth opposed to litter, and greater appropriations (for home and business owners, but, significantly, not for renters) from a converted Congress are worthy aims. The reforms they pursued have helped and undoubtedly will continue to help their stricken city, and the women who labored to accomplish them deserve high praise. Meanwhile, however, other deeply troubling problem areas—schools, crime, housing, public health—await champions of their own in New Orleans.[23]
[1] Adam Nossiter, "Bit by Bit Some Outlines Emerge for a Shaken New Orleans," New York Times, Aug. 27, 2006, sec. 1, p. 1.
[2]New Orleans Daily Picayune, July 7, 1901, quoted in Carmen Lindig, The Path from the Parlor: Louisiana Women, 1879–1920 (Lafayette, 1986), 116–17. On women's reform efforts in New Orleans, see Pamela Tyler, Silk Stockings and Ballot Boxes: Women and Politics in New Orleans, 1920–1963 (Athens, Ga., 1996); Leslie Gale Parr, A Will of Her Own: Sarah Towles Reed and the Pursuit of Democracy in Southern Public Education (Athens, Ga., 1998); Kathryn Kemp, "Jean and Kate Gordon: New Orleans Social Reformers, 1898–1933," Louisiana History, 24 (Fall 1983), 389–401; and Lynn D. Gordon, Gender and Higher Education in the Progressive Era (New Haven, 1990).
[3] On Ruthie Frierson, see Charles C. Mann, "The Long, Strange Resurrection of New Orleans," Fortune, Aug. 29, 2006, http://www.money.cnn.com/magazines/fortune/fortune_archive/2006/08/21/8383661. On the Orleans Levee Board, see Jeremy Alford, "Clamp Down," Gambit Weekly, Nov. 22, 2005, http://www.bestofneworleans.com/dispatch/2005-11-22/news_feat.php.
[4] Senate Bill 95, the measure for levee board consolidation, passed the Senate unanimously. Late in the session, however, a controversial procedural vote in the House denied the measure a House committee hearing; thus, the proposal died without debate two days before the legislature adjourned. Robert Travis Scott, "Seven Legislators Change Levee Votes," New Orleans Times-Picayune, Dec. 1, 2005, http://www.nola.com/archives/t-p/index.ssf?/base/library-90/113344927147170.xml&coll=1. Within days of the legislature's failure to enact levee reform, national credit rating agencies Standard and Poor's and Moody's downgraded Louisiana's credit rating. A local politician explained bluntly that "Louisiana taxpayers will have to pay more money to rebuild because the state's levee boards are crooked." Audrey Hudson, "Legislature Takes Hit on Credit," Washington Times, Dec. 6, 2005, available at HighBeam Research. Angela Hill, "Activist Developing Petition for Politicians to Rethink Single Regional Levee Board," wwltv.com, Dec. 2, 2005, http://www.wwltv.com/topstories/stories/wwl120205activists.2ed36750.html. Anne Rochell Konigsmark, "Residents Push to Rid N.O. Levee Boards of Politics," usa Today, Dec. 22, 2005, http://www.usatoday.com/news/nation/2005-12-22-levee-board_x.htm.
[5] John Hill, "Lack of Levee Board Reform May Make Relief More Difficult," Shreveport Times, Feb. 14, 2006, http://www.la-par.org/PAR%20News%20Files/ShreveportTimes02142006.pdf. The New Orleans Times-Picayune investigated the system in 2004 and found a strong correlation between owners' campaign contributions to assessors and their undervalued property; properties owned by donors were more than three times as likely as other properties to be valued at 80% or less of their most recent sales price. Though observers scathingly criticized the system's deficiencies for years, little changed. For a three-part newspaper report, see Gordon Russell, "Dubious Value," New Orleans Times-Picayune, April 4, 2004; Gordon Russell, "Getting a Break," ibid., April 5, 2004; Gordon Russell, "Resisting Change," ibid., April 6, 2004; or nola.com, http://www.nola.com/speced/dubiousvalue/.
[6] Clancy DuBos, "Engaged and Enraged," Dec. 12, 2005, Gambit Weekly, http://www.bestofneworleans.com/dispatch/2005-12-13/politics.php. Ruthie Frierson interview by Pamela Tyler, June 16, 2007, audiotape (in Pamela Tyler's possession).
[7] Frank Donze, "Voters Merge Levee Boards," New Orleans Times-Picayune, Oct. 1, 2006, http://www.la-par.org/PAR%20News%20Files/TimesPic10012006.pdf; Gordon Russell, "New Assessor System to Take Effect in 2010," ibid., Nov. 8, 2006, p. 1; Clancy DuBos, "Top 10 Political Stories of 2006," Gambit, Dec. 26, 2006, http://www.bestofneworleans.com/dispatch/2006-12-26/politics.php.
[8] For the account of the Katrina Krewe, I relied on Becky Zaheri interview by Tyler, June 16, 2006, audiotape (in Tyler's possession); and Katrina Krewe, http://www.cleanno.org/.
[9] Zaheri interview; Deanna Hart, "Wasted No More," Waste Age, May 1, 2006, http://wasteage.com/mag/waste_wasted_no/.
[10] Ron Mott, "Cleaning Up New Orleans, One Piece at a Time," Aug. 25, 2006, msnbc.com, http://www.msnbc.msn.com/id/14517716/.
[11] Steve Ritea, "Katrina Krewe Calls It a Day," New Orleans Times-Picayune, Aug. 25, 2006, p. 1, http://www.nola.com/news/t-p/frontpage/index.ssf?/base/news-16/1156486170218950.xml&coll=1.
[12] Charles Babington, "Hastert Tries Damage Control after Remarks Hit a Nerve," Washington Post, Sept. 3, 2005, p. A17, http://www.washingtonpost.com/wp-dyn/content/article/2005/09/02/AR2005090202156.html. Nancy Marsiglia interview by Tyler, March 16, 2006, audiotape (in Tyler's possession); Becky Currence interview by Tyler, March 14, 2006, audiotape, ibid.; Pamela Bryan interview by Tyler, March 21, 2006, audiotape, ibid.; Diana Pinckley interview by Tyler, March 15, 2006, audiotape, ibid.
[13] Bryan interview; Pinckley interview; Marsiglia interview.
[14] "Women Who Inspire Us: Women of the Storm," Woman's Day Magazine, http://www.womansday.com/home/10848/women-of-the-storm.html; "International Women's Day New Orleans 2006 Podcast: Women of the Storm Panel Discussion," March 7, 2006, http://www.tulane.edu/~wc/iwd2006/womenofthestormtuwa030706.mp3.
[15] Marsiglia interview.
[16] April Capochino, "Stormers Not Ready to Stop Congress Push," June 12, 2006, New Orleans CityBusiness, http://www.neworleanscitybusiness.com/viewStory.cfm?recID=15811.
[17] Marsiglia interview.
[18] Tours were usually led by a National Guard brigadier general, Hunt Downer, with a concise seminar presented by three businessmen: Rod West, the head of the local utility company Entergy; Sean Reilly, an advertising executive who chairs Governor Kathleen Blanco's Louisiana Recovery Authority; and King Milling, the president of America's Wetland Foundation (and also president of the Whitney National Bank and Anne McDonald Milling's husband). Women of the Storm persuaded the Greater New Orleans Association to provide lodging gratis. Women of the Storm steering committee meetings, March 8, 13, 20, 2006, audiotapes (in Tyler's possession). "National Women's Groups Join Women of the Storm, Urge Congress to Visit New Orleans and South Louisiana," March 29, 2006, The Association of Junior Leagues International, http://www.ajli.org/?nd=women_of_the_storm. On the number of Congress members who had visited, see "About Women of the Storm: Plans, Progress, and Initiatives," Women of the Storm, http://womenofthestorm.net/about_det.php?wots_content_ID=60.
[19] "Who's Visited," Women of the Storm, http://www.womenofthestorm.net/visited.php; Babington, "Hastert Tries Damage Control after Remark Hits a Nerve"; "What Congressional Leaders Are Saying When They See New Orleans," undated Women of the Storm leaflet (in Tyler's possession). John McCain quoted in Jeff Duncan, "Two Key Senators Go to Bat for N.O.," New Orleans Times-Picayune, March 11, 2006, http://www.americaswetland.com/article.cfm?id=359&cateid=3&pageid=3&cid=18. Terry O'Connor, "Women of the Storm Persist in Trying to Make a Difference," New Orleans CityBusiness, Sept. 25, 2006, http://www.neworleanscitybusiness.com/viewStory.cfm?recID=16825; Department of Housing and Urban Development, "Funding for Recovery in the Hurricanes' Wake Part II," ResearchWorks, 3 (Nov. 2006), http://www.huduser.org/periodicals/ResearchWorks/nov_06/RW_vol3num10t1.html.
[20] All three groups maintain Web sites with links to their coverage in print and broadcast media. See Citizens for 1 Greater New Orleans, http://www.citizensfor1greaterneworleans.com/; Katrina Krewe, http://www.cleanno.org/Press.html; and Women of the Storm, http://www.womenofthestorm.net/news.php.
[21] See Bonnie Thornton Dill, "Race, Class, and Gender: Prospects for an All-Inclusive Sisterhood," Feminist Studies, 9 (Spring 1983), 131–50; Rosalyn Terborg-Penn, "Discrimination against Afro-American Women in the Woman's Movement," in The Afro-American Woman: Struggles and Images, ed. Sharon Harley and Rosalyn Terborg-Penn (Port Washington, 1978), 17–27.
[22] Clancy DuBos, "Da Winnas & Da Loozas," Gambit Weekly, Nov. 14, 2006, http://www.bestofneworleans.com/dispatch/2006-11-14/politics.php.
[23] As this article goes to press, the three women's groups remain intact. Frierson's group has joined with civic and business organizations to demand more effective measures to combat violent crime in New Orleans, Becky Zaheri's group continues its effort of educating schoolchildren about litter, and Anne Milling's group is attempting to persuade the Commission on Presidential Debates to hold one debate among the 2008 presidential hopefuls in New Orleans as a way to focus more attention on the city's ongoing post-Katrina struggle. See "War on Career and Violent Criminals," Citizens for 1 Greater New Orleans, http://www.citizensfor1greaterneworleans.com/; "Kat Krewe: Kids Against Trash Krewe," Katrina Krewe, http://www.cleanno.org/Schools.html; and Bruce Eggler, "Group Seeks to Draw Presidential Debate," New Orleans Times-Picayune, March 21, 2007, http://www.nola.com/news/t-p/washington/index.ssf?base/news/1-1174455810102470.xml&coll=1. Rumor has it that some women activists may seek public office in the next election cycle, but confirmation was not forthcoming.