Neighborhoods: Read more about the neighborhoods mentioned in this article. [+]
Uptown/Downtown
In New Orleans Uptown and Downtown describe large sections of the city in respect to Canal Street and the Mississippi River, not individual neighborhoods. More >
Reflections of an Authentic Jazz Life in Pre-Katrina New Orleans
Michael G. White
Journal of American History,

94 (Dec. 2007), 820–27
Like most New Orleanians who fled Hurricane Katrina in August 2005, I thought that the evacuation would be nothing more than a soon forgotten inconvenience. We would return home after a couple of "vacation days," and everything would quickly be back to normal. But as I drove out of town it was hard to shake the feeling that this might be the "big one," the storm that would fill the bowl and drown a special culture. Later, the surrealism of watching so much death, suffering, and destruction in my own hometown—unfolding live on television over several weeks—made clear that the vacation would not end any time soon. It was turning into a nightmare. After endless days of attempting to learn the fate of family and friends and trying to adjust to displacement, the scope of personal loss became clearer. An aerial map on the Internet indicated that my house—located on the twice-breached London Avenue Canal—had not only been flooded but was stewing in more than eight feet of contaminated water; it would continue doing so for nearly three weeks. I tried not to speculate on the fate of my home's contents until the first drive back home six weeks after Hurricane Katrina.
Walking into my still-standing house for the first time felt like a science fiction movie: everything was smashed, shattered, and scattered amid a mass of foul-smelling, sodden, and mildewed ruins. This was when the reality of loss hit home. Though I had never set out to be a collector of anything, over the years I had amassed an immense archive of jazz and related music, and of Louisiana, New Orleans, African, and African American history and culture. All of a sudden, here it lay before my eyes—completely destroyed. Somewhere among the piles of debris were over four thousand books, five thousand cd recordings, one thousand lp and 78 rpm records, hundreds of films and documentaries on video, varied musical equipment, scores and scores of complete jazz music transcriptions, dozens of unrecorded original compositions, and thousands of photographs and periodicals. There were rare and vintage musical instruments, including a piano, African and Latin percussion instruments, several saxophones, string instruments, and more than fifty clarinets. There was musical memorabilia: banjo and bass strings, clarinet and saxophone reeds, brass band labels, and other items that many older musicians had discarded at jobs. Families and friends of legendary musicians had given me sheet music from classic recordings, instruments, and rare, prized artifacts such as a classic white clarinet mouthpiece belonging to Sidney Bechet and a trumpet mouthpiece from Louis Armstrong's great early rival, Jabbo Smith. There were also dozens of interviews that I had conducted with several older musicians relating their experiences and stories of the early days of jazz. Many years of my research, like all of the sheet music, had disintegrated into mush from having soaked in the toxic flood water. Unearthing the clarinets was especially hard. Many of them had been made between the late 1890s and 1930s. There was no hope of salvaging any of them. They were warped, discolored, rusty, moldy, their bodies swollen. Some of them had begun singing their beautiful melodies during the ragtime era and the early days of jazz. They were a part of musical history forever silenced in the flood waters of Katrina.
My archive, library, and collection were more than a privately hoarded stash of cultural treasures. Many of the materials were regularly used in teaching, research, writing, consulting, and performing. The vast collection of materials rivaled or exceeded similar holdings of many local libraries and was often used in the production of documentaries, museum exhibits, displays, and special concerts. The contents of my home reflected a life's work. They were the basis of future books, new song ideas, instruments to be donated—the foundation, in short, on which to build new knowledge of jazz and local culture. Their loss—and the tragedy that had befallen New Orleans and her people—was like a death for me. Nothing could ever be the same again.

Thread: Returning to New Orleans. Expand thread [+]
Listening to those New Orleans residents who were fortunate enough to come back, one begins to appreciate the fine but crucial distinction between knowing and believing. Follow thread in Otte, "Language of Loss and Grief" >
The summer of 2005 had begun with optimism, reflection, and celebration. One Saturday morning in May I sat alone in my car outside a small Baptist church in Marrero, Louisiana. Exactly thirty years ago that weekend began my first professional musical engagement. It was the church's anniversary parade. Shortly into my nostalgic private celebration it all seemed to come alive again: church sisters in white dresses, men in black suits, majestic elders riding atop convertibles, proud ministers, and colorful banners out in front. The sounds of that day also rang freshly in my ears: "Bye and Bye," "Just a Closer Walk with Thee," "Lord, Lord, Lord," and a host of other jazzed up hymns that exploded with rhythm and musical conversations that made the sky bluer, the day brighter, and everyone within earshot renewed with the joyous spirit of living. I also remembered the frightening feeling of being a young, inexperienced clarinetist with Doc Paulin's Brass Band, desperately trying to find the right piercing high notes and rhythmic figures to contribute to the improvised euphoria. A few compliments from older musicians at parade's end seemed like a fitting conclusion to what I thought was certain to be a one-engagement music career.
Much of that Saturday morning in 2005 was spent reliving every moment of that first gig and thinking about all that had happened since. Three decades ago there was no way for a twenty-year-old college student to know that a small, isolated Sunday morning parade would mark the beginning of a lifelong journey filled with challenges, learning, growth, adventure, and unique experiences. This was the start of my real life—my authentic jazz life. During most of those thirty years I led a double life as a professor of Spanish at Xavier University of Louisiana in New Orleans and as a jazz addict and clarinetist. My unexpected musical career grew to include composing, recording, performing abroad, leading bands, researching, writing, and lecturing—mainly in the area of traditional New Orleans–style jazz. Two careers on a collision course comfortably merged three years ago when I was awarded the Rosa and Charles Keller Endowed Chair in the Humanities at Xavier. Now I would remain at the university and have more time to devote to my work in New Orleans music and culture. In the months just preceding Katrina I toured Europe with my Original Liberty Jazz Band and once again felt renewed by the spirit of joy that authentic traditional jazz still brings throughout the world.
If the summer of 2005 began closing on a note of optimism and celebration, it soon yielded to fear, uncertainty, and deep reflection. During the thirty-plus-hour solo driving ordeal to Houston, I could not help but reflect on my life and ask a question that has come up many times over the years: "Why do YOU seem to be the only younger African American so seriously interested and involved in traditional New Orleans jazz?" I had never given the question much thought until Katrina turned my world upside down. Now I was as puzzled as others have been by my unlikely involvement in the older jazz tradition and unique perspectives on it.
There was little in my upbringing foreshadowing my eventual involvement with traditional jazz. During the 1960s and 1970s I grew up in the middle-class uptown neighborhood of Carrollton, in New Orleans, far removed from community musical traditions, such as social club parades and Mardi Gras Indians. Authentic traditional jazz was rarely heard on radio or seen on television. It was almost completely absent from mainstream New Orleans life. The "progressive" education system did not teach or value cultural and historical traditions. Though there were several first-generation jazz musicians on my mother's side, I had no knowledge of them until after I became immersed in the tradition. For four years I took private clarinet lessons and played standard marching and concert band music at St. Augustine, an all-black Catholic boys high school. Negative stereotypes about musicians and their life-style never tempted me to become a professional musician—not even after I had been one for some time.
Everyone, including me, thought that my playing days were over when I majored in Spanish at Xavier. For some reason I still practiced at home from method books and played pop music along with the radio. I tried to find music that I could play for enjoyment. I knew that clarinets were used in some kinds of New Orleans music. A year with the university's stage band exposed me to widespread prejudices: most music teachers and modern jazz musicians generally disdained authentic New Orleans jazz. They viewed the earliest jazz style as primitive, musically valueless, Uncle Tom music; or they confused it with its commercialized, comic, and bland imitation, Dixieland jazz. So how did I come to discover New Orleans–style jazz and see it not merely as a source of African American pride, strength, and genius, but as a timeless local expression of the collective human experience? How did I come to find in it an appealing form of creative self-expression and a sense of place, belonging, and endless challenge?
I met disappointment searching for musical direction in pop music, modern jazz, and the commercialized jazz of Bourbon Street. Things changed when I started going to the New Orleans Jazz and Heritage Festival in 1973 and heard real traditional jazz bands for the first time. It was there I met the brass band leader and legend Ernest "Doc" Paulin. Though the elderly trumpet player seemed skeptical about hiring "young fellas," a few weeks later I answered the phone to hear his thick Creole accent offer me a job: "Be at my house at nine o'clock sharp next Sunday. You need to wear black pants, a clean white shirt, a solid black tie, black shoes and a white band cap. You won't mess up will you? You know you young fellas ain't no good." That Sunday, after a brief military-like inspection and reprimand of those not properly attired, Doc led a caravan of ten musicians just across the Mississippi River to Marrero and parked in front of the small Morning Star Baptist Church—the place where the baptism into my jazz life began. I was sure it would be my first and last musical engagement. I was very wrong. Over the next four years I was a regular member of the band and played over 200 jobs.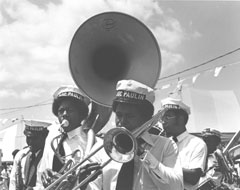 Doc Paulin's Brass Band performing at the New Orleans Jazz and Heritage Festival, April 1977. Photo by Harriet Blum. Courtesy William Ransom Hogan Archive of New Orleans Jazz, Tulane University.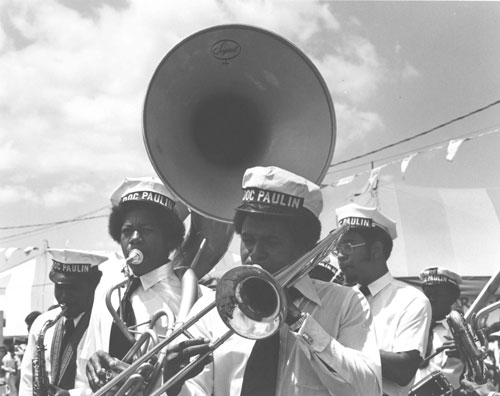 Doc Paulin's Brass Band performing at the New Orleans Jazz and Heritage Festival, April 1977. The band's members included (from left to right) Dwight Miller, saxophone; Dwayne Paulin, tuba; Darryl Walker, trombone; Michael G. White, clarinet; and Ricky Paulin, snare drum. Photo by Harriet Blum. Courtesy William Ransom Hogan Archive of New Orleans Jazz, Tulane University.
Most of Doc's work was in the African American community: social club and church parades, jazz funerals, and dances. Doc employed several older musicians who, like himself, had been playing jazz since the 1920s. It was during that time that I really got to know various New Orleans neighborhoods and became immersed in the subculture whence jazz originated. Doc and the older band members taught me that, at least in the neighborhoods, jazz was not the same as tourist music. It was a musical accompaniment to a way of life, an expression of community spirit that permeated dancing, speech, cooking, mannerisms, dress, walking, wit, and humor. And over the years of many memorable engagements I came to appreciate the strong spiritual and cultural ties between the local African American community, West African customs, and European traditions. The band often played for seasonal benevolent society, and social aid and pleasure club parades—very different in look, sound, nature, and purpose from the better-known, more Eurocentric Mardi Gras parades. New Orleans African American social club parades consist of colorfully attired dancing club divisions, uniformed brass bands, and a "second line." The second line is a crowd of anonymous followers, sometimes numbering in the thousands, who dance and cheer throughout social club parades and jazz funerals. The term also refers to the participants' free-form, West African–influenced dance that has endless variations and symbolic gestures, and often involves the use of umbrellas and handkerchiefs.[1]
Eventually, I began to see beneath the collective hysteria an important social significance. Like the jazz music that accompanied them, the community parades since the early 1900s not only celebrated ancestral traditions, they gave scope for pride and free expression; they promoted visibility, unity, respect, and strength.

An overview of New Orleans jazz More >
The first nonmusician's jazz funeral Doc Paulin's brass band played after I joined was for a member of an old benevolent society across the river from New Orleans in Hahnville. I will never forget the look, sound, and feel of that very spiritual day. Society members wore navy blue nineteenth-century French military-style uniforms trimmed in gold—complete with shiny swords and plumed admirals' hats. There was an air of beauty, majesty, and seriousness throughout the procession. The band's sad dirges, played en route to the cemetery, were marked by the slow, orderly steps of the somber, sunken-faced, elderly society members and attendees. Our instruments seemed to sing and cry out the melodies of "The Old Rugged Cross" and "Nearer My God to Thee" with all the passion and somber emotion heard in the sobbing and screams of the deceased's closest family members. After the burial the traditional joyous second line dancing—to upbeat songs such as "Just Over in the Gloryland" and "Oh, Didn't He Ramble"—was almost comic in its combination of graceful reserve and soulful expression. It was one of the last of the traditional jazz funerals conducted with the sound, look, and ceremonial dignity originally intended for New Orleans's unique dualistic celebration of death. There was no way of knowing at the time, but those years marked the end of an era. No longer would the traditional jazz sound and style of brass bands dominate community street processions—as they had for over three-quarters of a century.

Thread: Jazz funerals and a second line Expand thread [+]
During the late 1970s and early 1980s there began an evolution and explosion of new, young brass bands. Groups such as the Dirty Dozen Brass Band and the Rebirth Brass Band exchanged the old uniforms, repertoire, and values for an updated street scene that combined contemporary informality with a vibrant new sound formed by blending modern and traditional jazz, contemporary pop music, Mardi Gras Indian songs, hip-hop, and New Orleans rhythm and blues. Along with an increase in the number of young brass bands came a renewed popularity of social club parades and jazz funerals. The newer style and format have dominated community processions and the brass band scene for over twenty-five years.
The climax of my years with Doc Paulin's Brass Band came one Sunday after playing an anniversary parade for the legendary gospel singer Mahalia Jackson's childhood church in uptown New Orleans.[2] On the way home I stopped at a record store and ended up buying my first recording of the clarinetist George Lewis. It changed my life forever. As powerful and wonderful as my experiences in the brass band and street processions had been, the George Lewis record brought about a spiritual awakening. Lewis's beautiful lyrical tone and swinging phrases seemed to be telling his life story, the history of his people, and the history of New Orleans, all at the same time. It also expressed the feelings and emotions that had been locked inside of me for years—waiting to come out. I stayed up for hours trying to play along with the hymns, blues, rags, and folk songs on the record. That first contact with Lewis's music confirmed my lifelong addiction to traditional New Orleans jazz. I tried to hear and learn as much as I could about that music, about those who created it, and about the place from where it came. I spent years reading and listening in libraries, archives, and museums. I sought out the older musicians playing at Preservation Hall and other locations and quietly listened unnoticed from a safe distance. I practiced endlessly along with my growing record collection.
In 1979 I joined the local musicians' union and was soon playing with several brass bands and smaller groups at sporting events, conventions, weddings, hotel engagements, and festivals. Another turning point in my career came when the veteran trumpeter George "Kid Sheik" Colar heard me play George Lewis's famed "Burgundy Street Blues" at a public concert in Jackson Square. He invited me to a jazz party and jam session attended by several older musicians. Sheik asked me to sit in and play "Burgundy Street Blues." That began my official apprenticeship in the older traditional jazz community. They comprised the second generation of musicians that followed a direct line of stylistic descent from Buddy Bolden and the earliest days of jazz. For over a decade, more than three dozen active jazz players born between the late 1890s and 1910 became my mentors, friends, and, eventually, band mates. Musicians such as Kid Sheik Colar (b. 1908), Chester Zardis (b. 1900), Louis Nelson (b. 1902), Sadie Goodson (b. 1900), Danny Barker (b. 1909), Kid Thomas Valentine (b. 1896), Preston Jackson (b. 1902), Sweet Emma Barrett (b. 1898), Percy Humphrey (b. 1905), Willie Humphrey (b. 1900), and Emmanuel Sayles (b. 1902) took me under their wing. From them I learned about the successive periods of traditional New Orleans jazz, each with different players, songs, and stylistic characteristics. The initial period began with Buddy Bolden, lasting roughly between the late 1890s and 1920. The classic period was the 1920s, when jazz was widely recorded, and figures such as Louis Armstrong, Jelly Roll Morton, and King Oliver developed the music to an art form of shape, variety, definition, and possibility. The New Orleans revival style was first recorded during the 1940s and 1950s, when musicians such as Bunk Johnson and George Lewis created a second wave of international attention for early jazz. The musicians filled gaps in the history books about legendary players and taught me little-known facts about the role and styles of New Orleans clarinet playing, indeed, about the meaning of jazz. They gave me the benefit of their personal experiences with the greatest figures in early jazz, such as Louis Armstrong, Sidney Bechet, Jelly Roll Morton, King Oliver, Bunk Johnson, George Lewis, and Bessie Smith.[3]
For many years, older musicians and fans of the authentic black style of traditional New Orleans jazz feared that the music would die with the passing of early players who were still active into the 1980s. Musicians born in the 1920s, 1930s, and later generally skipped over the early jazz style in favor of music of the day, such as swing, modern jazz, and rhythm and blues. The appearance of a few younger black traditional jazz players during the 1980s was a new phenomenon mentioned in numerous publications. Rhodes Spedale's 1984 book, A Guide to Jazz in New Orleans, contains a photo of me with the caption: "Michael White—a rarity: a young traditional jazzman."[4] My appearance on the local jazz scene was so unusual that it drew interesting perspectives from respected older modern jazz musicians, such as Ellis Marsalis, who, upon hearing me for the first time, stared and shook his head for several minutes before commenting: "That's amazing to me. You know you couldn't have existed twenty years ago. But keep doing that. It's needed out here." One well-known local trumpeter offered a candid observation: "Man you sound just like them old men. There's no bop [modern jazz] in your playing. Before I found out that you were so educated I really thought that you were retarded. But now I understand you."
I had become a full-fledged member in the inner circle of a special extended family. My credibility among the elders grew when they discovered I was a relative of several first-generation jazzmen, including the bassist Papa John Joseph (1876–1965). A popular figure, Papa John had helped many younger players and lived to be the oldest active jazz musician for many years. My appearance on the music scene seemed to bridge the gap between older musicians and younger players from the swing, modern jazz, and rhythm and blues eras. To the older musicians I was a novelty at first, but eventually became a symbol of hope: a rare young black man, one of their own, genuinely interested in them and their style of playing. They now felt that the special music they created could be passed down and would not perish with them. My association with many musicians extended to their families. There were many house visits, phone calls, dinners, and parties. We played many musical engagements together in New Orleans, around the United States, and abroad. The visits eventually and increasingly were to hospitals and funeral homes. Several musicians left me with a chilling deathbed order to "keep this music going." Although each older musician's jazz funeral felt like the loss of a parent, I eventually realized they never completely left me. Each one left a part of himself or herself that I feel every time I play my clarinet.
I have devoted the last decade to keeping the flame of New Orleans jazz alive. A small group of now middle-aged descendants of musical families, such as the trumpeter Gregg Stafford, and a number of talented converts to traditional jazz—often under my guidance—now fill the rosters of my quartet, brass band, and seven-piece groups. Much has changed over the years. The traditional style of jazz no longer dominates the contemporary brass band sound of the still-popular community parades and funerals. A fake, distorted image and sound of jazz and "New Orleans music" have become increasingly common in the fog of cultural ignorance, commercialism, and indifference. Yet there has also been much cause for optimism. After thirty years into my jazz life, solutions to long-standing problems, questions, and issues—such as dealing with change, training musicians, and learning how to contribute to the tradition—have become clearer. During the years leading to my August 2005 evacuation to Houston I had made significant progress in performing and presenting unusual, neglected, and new aspects of New Orleans jazz: through rare classic 1920s jazz concerts, centennial tribute programs for major jazz figures, numerous lectures and published essays, many performance tours, contributions to various documentaries, and several new recordings. During a two-month stay in 2003 at A Studio in the Woods, a local artists' retreat facility, I figured out new approaches to playing traditional jazz by combining personal experiences, local history, and a variety of musical influences with the musical principles of the older New Orleans tradition. A schedule of intense practicing, listening, and getting in touch with the quiet natural surroundings of the woods opened me up creatively and led to over two dozen new compositions. Ten of those songs appeared on my 2004 cd, Dancing in the Sky.[5] I continued to write new traditional jazz songs and looked forward to a period of greater learning, growth, and production.
Since the storm I have come to view Katrina and its aftermath as a rebirth; the beginning of another path in my jazz life. Like thousands of other victims along the Gulf Coast, I have had to grapple with hurricane-related deaths, illness, displacement, anger. I divide my time between teaching classes at Xavier, surviving in a tiny Federal Emergency Management Agency (fema) trailer, searching for options for my blighted property, and caring for my mother, who rotates between nursing homes, hospitals, and rehabilitation facilities in Houston. I try not to get too angry or get into debates over the future of New Orleans.
Prayer, playing music, and the kindness shown toward the Gulf Coast storm victims by individuals around the world have kept me going. I have begun again to collect a few books and recordings needed for my work. I have been writing, publishing, and lecturing more than ever. I have several new songs. I am told that there is a deeper passion in my playing these days. My band has performed abroad and at such venues as Carnegie Hall, the Lincoln Center, the Apollo Theater, and the Smithsonian Institution. New Orleans jazz has never seemed more important to me than it does now. Despite all that has happened, I feel very fortunate. The most valuable things that I had before Katrina were never lost: jazz, the memories and knowledge gained from the older musicians, and the strength and wisdom that comes from thirty years of a jazz life. These things will always be with me and forever enrich my soul—and ultimately guide me through the next phase of my life. Once again, tradition has given me a sense of hope and direction for the future. I have often considered the philosophy of the jazz funeral—of sadly grieving the loss of life and joyously celebrating the beginning of its glorious resurrection. My old life has ended, but a new one has begun. Though the road ahead will be difficult, I look forward to this new beginning. I anxiously wait to see down which paths this new stage of my fortunate jazz life will lead.
[1] Today "doing the second line" has moved beyond black street processions and takes place at many New Orleans music, cultural, and sports events. The term "second line" is even used as an adjective or noun to describe traditional jazz-related music, social clubs, and bands. It is common in the community to hear both social club parades and jazz funerals called "second lines."
[2] A young Mahalia Jackson attended Mount Moriah Baptist Church on Millaudon Street in uptown New Orleans. For many years the church held an anniversary parade in the neighborhood. The day that I describe is the basis of a commissioned painting by Richard Thomas that hangs in New Orleans's Louis Armstrong International Airport. I am prominently seen playing clarinet in the brass band. I relive that important Sunday every time I pass through the airport.
[3] For biographical information on jazz musicians, see Stanley Sadie and John Tyrrell, eds., The New Grove Dictionary of Music and Musicians (London, 2001).
[4] Rhodes Spedale, A Guide to Jazz in New Orleans (New Orleans, 1984), 52.
[5] Dr. Michael White, Dancing in the Sky (compact disc, Basin Street Records B0001HAIVS; 2004).