Treme
Tremé is a neighborhood rich in African American history and culture. One of the oldest black districts in the city, Tremé was once the primary neighborhood of New Orleans's free persons of color. Adjoining the northern edge of the French Quarter, Tremé stretches north from Rampart Street to Broad Street and is bordered by Esplanade Avenue in the east and Canal Street in the west.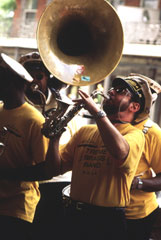 Modern Brass Band jazz musicians in Tremé. Courtesy www.NewOrleansOnline.com.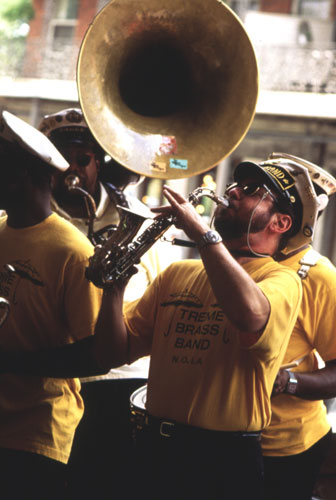 Modern Brass Band jazz musicians in Tremé. Courtesy www.NewOrleansOnline.com.
St. Augustine's Catholic Church, a New Orleans landmark, is in Tremé. St. Augustine's is the nation's oldest African American parish, and its history closely parallels Tremé's. In 2004, the parish erected the "Tomb of the Unknown Slave" as a memorial to all slaves who died in the United States and Tremé.
One of the neighborhood's most distinctive areas is Congo Square. Congo Square became prominent in the late eighteenth century—it was once renamed Beauregard Square and is now part of Louis Armstrong Park. The square served as a commerce center during the week, transforming into a social gathering place on Sundays as slaves congregated for traditional African music and dance. Through the nineteenth century, music continued to define the area as Creole brass and symphonic bands staged concerts in the square. The jazz musicians George Lewis and Sidney Bechet were born and started their careers in Tremé.
A more notorious area within Tremé is the red-light district of Storyville. Located on the southern edge of the neighborhood, Storyville was established in the late 1890s by the city government to monitor and regulate prostitution and other social vices; it was torn down in the 1940s to make way for the federally funded Iberville Housing Project.
Tremé's residents and visitors access the area primarily from Claiborne Avenue, which was once an oak-tree-lined avenue. A northern section of the road was cleared in the 1960s for the construction of Interstate 10, which now runs through the area. Creole cottages and shotgun houses, indicative of its early development, still define the architectural style of the neighborhood.
Tremé received minor to moderate flooding in the wake of Hurricane Katrina, with the majority of the damage being north of I-10.