Teaching the Article
Exercise 2: Bringing the Wild into the City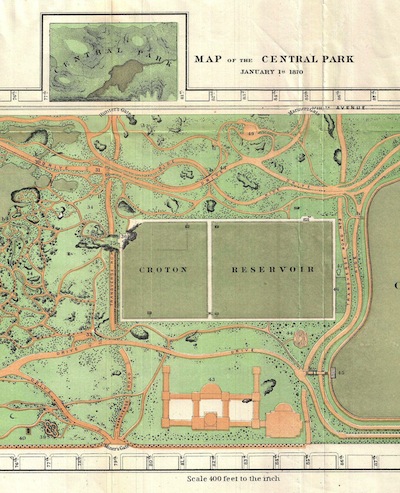 As U.S. cities grew in size and population density in the late nineteenth century, urban reformers and landscape architects such as Frederick Law Olmsted sought to create green spaces that allowed residents to immerse themselves in nature and to imagine the pastoral life without leaving the city. Olmsted was the designer or co-designer of numerous large urban parks established in the late nineteenth century, including New York's Central Park. In the late 1870s the director of the Central Park Menagerie (the predecessor of today's Central Park Zoo) released dozens of squirrels into the Ramble, a section of Central Park intentionally designed to be "wild."
Questions
Based on the map, can you guess which section was the Ramble, the "wildest" part of the park? What distinguishes this area from the rest of the park? What does it tell us about how Olmsted and his design partner, Calbert Vaux, imagined "the wild"? (The Ramble is the area labeled with the number "34" to the left [i.e., south] of the Croton Reservoir.)
Is it possible for a park—or a section of a park, such as the Ramble—to be both designed and wild? What role did animals such as squirrels play in giving visitors the experience of wildness?
Olmsted and many other urban reformers of his time thought that encountering nature in a restful park setting improved the health of urban residents. Do we still think so? How do people today justify the existence of urban parks?
Sources
Map of Central Park from the

Thirteenth Annual Report of the Board of Commissioners of the Central Park

(1870), available at Wikimedia Commons: http://commons.wikimedia.org/wiki/File:1870_Vaux_and_Olmstead_Map_of_Central_Park,_New_York_City_-_Geographicus_-_CentralPark-knapp-1870.jpg
Local copy of img (JPG)