Through the Eye of Katrina
The Past as Prologue?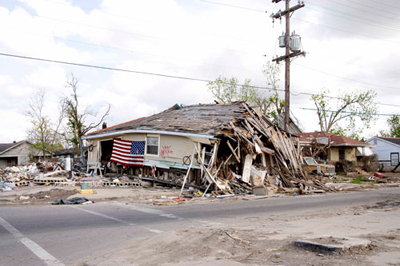 In this photograph taken in April 2006, a devastated home in New Orleans's Lower Ninth Ward bears witness to Hurricane Katrina's destructive force and human toll. Photo by Carol M. Highsmith. Courtesy Carol M. Highsmith.
This special issue of the Journal of American History, "Through the Eye of Katrina: The Past as Prologue?" provides a compelling first take on the history surrounding the disaster of Hurricane Katrina and its impact on New Orleans and the Gulf Coast. Twenty articles and essays, written by scholars who specialize on areas that surround this topic, discuss the Katrina disaster through multiple lenses, including political, urban, environmental, architectural, and musical history.
In this online presentation of this special issue, we have added related images, sound, and video into the articles and, with the help of Leslie Parr, put together audio slideshows that document four New Orleans photographers' experiences in the aftermath of the storm. Contextual threads guide readers to related sections in other essays; (look for the

thread icons). Interactive maps are also incorporated into the essays; (look for the

neighborhood bar). Integrated into the articles is a glossary that highlights important events and places in New Orleans's history; (look for the

glossary icons). A separate resources section provides additional content that aims to increase readers' familiarity with New Orleans neighborhoods and culture.
In the next few weeks, we will be adding several more materials to the site. Visit the Upcoming section to see what's new and arriving soon.