Neighborhoods: Read more about the neighborhoods mentioned in this article. [+]
French Quarter
Bordered by the Mississippi River, Canal, Esplanade, and Rampart streets, the French Quarter is the original site of New Orleans. It is also known as the Vieux Carré, or the "Old Square." More >
Tremé
Bordered by Rampart, Broad, and Canal Streets and Esplanade Avenue, Tremé is one of the oldest black districts in New Orleans. More >
Poverty Is the New Prostitution: Race, Poverty, and Public Housing in Post-Katrina New Orleans
Alecia P. Long
Journal of American History,

94 (Dec. 2007), 795–803
In the depths of the Great Depression, the federal government, led by a president with a vision of social justice and some interest in the fate of the nation's poorest and most vulnerable, oversaw the passage of the U.S. Housing Act of 1937. For once, local New Orleans leaders had their act together, and the city was the first in the nation to qualify for funds. The city's first six housing projects were racially segregated—two for whites, four for blacks—as was the case throughout much of the South.[1] One of the projects for whites was named Iberville, in homage to one of Louisiana's founders, Pierre Le Moyne, sieur d'Iberville. Located two blocks from both the French Quarter and Canal Street, Iberville is one of only four housing projects that have been reopened to a pitifully small percentage of former residents since Hurricane Katrina. The complex sits on a valuable, enticing, and contested piece of real estate, ardently desired by investors and developers who want to "clean up" the area adjacent to the French Quarter and make it more business and tourist friendly. Despite Katrina's tragic breadth, a closer look at this neighborhood's history reveals that contemporary events resonate with a depressingly familiar past. This is not the first time city leaders have acted to move poor blacks out of this area in the name of "progress." Unfortunately, New Orleans has seen it all before. The neighborhood that became the infamous vice district Storyville, and later a public housing project—built for whites but ultimately populated entirely by African Americans—started out as the low-lying swampy backside of New Orleans proper, the lowdown doppelgänger of the higher, drier French Quarter.
When Katrina struck, the Iberville Housing Project had 673 occupied apartments. Some of its residents walked to the nearby French Quarter and worked hard but often invisibly, as maids in hotels or as kitchen staff in the Quarter's many celebrated restaurants. Lacking cars, credit cards, or the several hundred dollars in ready cash necessary to stage any kind of evacuation from the city, many of them stayed behind because they had no other choice. As the water began to rise, many Iberville residents waded through the muck and then lived through the hellish aftermath in either the Superdome or the Convention Center. When they were finally rescued five days later, they were widely dispersed across the country in the chaotic evacuation that followed. The residents of public housing, just like the city's other renters and homeowners, also lost their homes and neighborhoods when the flimsy, federally underfinanced levee system collapsed. Many Americans seem not to realize that fact or to care, perhaps because the housing was federally owned and subsidized.[2]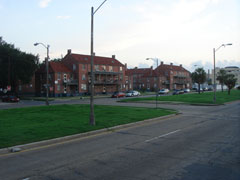 The Iberville Housing Project, shown here in August 2007. Photo by Sam Rykels. Courtesy Sam Rykels.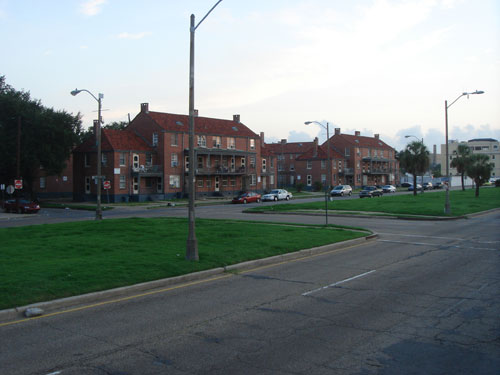 The Iberville Housing Project, shown here in August 2007, reopened to a few of its all–African American residents after Hurricane Katrina, but its proximity to the French Quarter has attracted investors and developers eager to "clean up" the area for business and tourism. Photo by Sam Rykels. Courtesy Sam Rykels.
Today, a slew of developers and politicians want to bulldoze most public housing and replace it with mixed-use complexes. They also have plans to redevelop another former vice district, once known as "black Storyville," and to replace the city's civic corridor with a jazz district. Some have good intentions. Others, such as the Louisiana Republican congressman Richard H. Baker, are nefariously jubilant at the prospect. Baker thanked Katrina for doing the urban landscape a favor, remarking, "We finally cleaned up public housing in New Orleans. We couldn't do it, but God did." While some see the hand of Providence in Katrina's collateral damage, historically speaking, the hand of man has had a lot more to do with directing diasporas in this neighborhood. Current schemes, whatever the intentions of their authors, promise not moral reform but the transformation of neglected parts of the city into profit centers for the twenty-first-century tourist trade. The experience of these neighborhoods when they served as the heart of the New Orleans demimonde suggests that the city's poor and powerless are likely to be victimized yet again should such plans come to fruition. Meanwhile, developers maintain that they are paying homage to the city's history, but they are actually distorting and manipulating it to achieve goals that will repeat past injustices. In the process, their plans may also wipe out the very streetscapes and demolish the small number of remaining structures that played a definitive role in the creation of jazz. For all of its horrifying singularity, the aftermath of Katrina can be better understood by examining the less dramatic displacements of the poor that have historically characterized this notorious neighborhood.[3]
Home to the city's first cemetery, this area at the "back o' town" was only reluctantly and sparsely populated by the living in the colonial and antebellum eras. Yet when immigrants and freed slaves flooded into the city after the Civil War, the neighborhood's density increased dramatically. By the end of the nineteenth century, Sicilian immigrants and impoverished blacks recently relocated from the plantation countryside dominated the area's streets and inhabited its shoddy structures. That is, until 1897 when they were shoved aside to make way for progress—and for prostitutes. The vice district that emerged was not the city's first, nor was there anything new in the city's reputation for tolerating and making space for sins of the flesh.[4]

Glossary: New Orleans's Cemeteries More [+]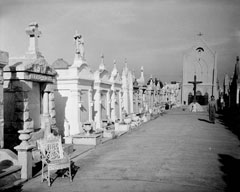 Cemetery Tombs. Photo by Alexander Allison. Courtesy Alexander Allison Photograph Collection, New Orleans Public Library.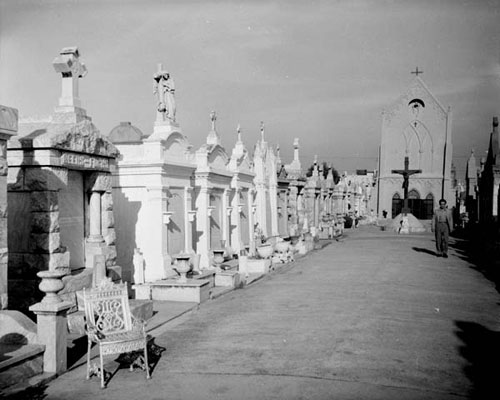 Cemetery Tombs. Photo by Alexander Allison. Courtesy Alexander Allison Photograph Collection, New Orleans Public Library.
New Orleans's thirty-one historic cemeteries chronicle the city's history. The oldest cemetery, St. Louis Cemetery No. 1, opened in 1789 following the great fire of 1788. The city replaced St. Peters cemetery (which no longer exists) as New Orleans's designated burial site and began the tradition of above-ground burial. Before 1789, most of the city's burials were below ground despite the marshy conditions and water filled plots. A growing sense of responsibility for the dead led the city's wealthier families to begin building elaborate, above-ground tombs to protect the bodies of their loved ones. Mausoleums of all styles and sizes began filling New Orleans cemeteries. In the 1830s, several epidemics that swept through the area prompted the city council to pass burial ordinances restricting burial to existing above-ground structures, thus reinforcing the New Orleans tradition. Today, cemetery tours are popular with tourists, with much of the proceeds going toward cemetery preservation and restoration.

Thread: Geographies of risk, nuisance, and convenience Expand thread [+]
Areas farthest from the river were lowest in elevation and closest to the mosquito-infested, flood-prone swamp. This so-called back-of-town suffered environmental risks and primitive infrastructure, cost little, and inspired the humblest housing stock. Follow thread in Campanella, "Ethnic Geography" >
Despite its vital economic import in the antebellum era, New Orleans lay on the edge of the nation like a languid and alluring courtesan. The metaphor, though hackneyed, is an accurate one, for an important and enduring aspect of the city's appeal to visitors was, until Hurricane Katrina, its reputation as a dimly lit, nonjudgmental world of sensual delights and sexual possibilities. In the nineteenth century, visitors used colorful phrases such as the "great southern Babylon" and "a perfect Sodom" to describe it. In more recent decades, journalists and visitors have called it everything from a "Vice Cesspool" to a "wild party heaven." Throughout the twentieth century, otherwise upright Americans, though they might be reluctant to own up to it at home, flocked to the city precisely because of its reputation as an "exotic, erotic hot spot."[5]
Local officials were usually laissez-faire on the subject, but influential inhabitants were occasionally troubled by the city's reputation as a hotbed of prostitution and licentiousness. When pressed, city leaders attempted to deal with the issue by making prostitution less visible, creating a series of shrinking spatial demimondes over several decades. The city's first comprehensive antiprostitution measure, the 1857 Lorette Ordinance, essentially made prostitution legal in any part of the city so long as sex-sellers avoided "street-level solicitation, indecent dress, and the creation of scandal or disturbance." From then until the end of the century, reform-minded city leaders passed at least nine ordinances to deal with prostitution and its attendant social ills in a variety of ways. In 1898, the New Orleans Daily Picayune described the final attempt to quarantine the "plague of prostitutes" and move vice out of the city's mainstream: "The city government is trying to drive vice and immorality out of the most prominent localities and into obscure neighborhoods where decent people will not be constantly offended by their open and shameless flauntings." Though the locution was strange, the message was crystal clear: the city wanted to confine vice to less desirable districts where they could control, contain, and, unofficially, profit from its practitioners.[6]
After months of legal wrangling in 1897 and 1898, the city included two neighborhoods in the final version of its most infamous vice district ordinance. The most well-known portion of the city's 1897 vice district was "Storyville." While some simply called it "the district," the other name was an inside joke that mocked Councilman Sidney Story, the man largely responsible for authoring the ordinances that shaped the boundaries of the last, smallest, but most notorious vice district in the city's history. The reputed purpose of Story's ordinance was to control prostitution and make it a less visible aspect of local culture and the city's national reputation. It had precisely the opposite effect. Once Storyville opened for business in 1898, local folks, especially men, flocked to the district, which was characterized by gaudy high-end brothels, dance halls, saloons, shooting galleries, and modest sex-trade establishments called cribs. Women from all parts of the city, as well as from across the nation, also traveled in and out of the vice district to work as prostitutes to support themselves and, quite often, extended families. For twenty years tourists from around the region and the nation descended on Storyville to see the bright lights and scantily clad women and to indulge in the local joie de vivre. By 1908 new rail lines and a sprawling terminal station that fronted Canal Street guided visitors into the city along a path that abutted the district's main thoroughfare, the legendary Basin Street.[7]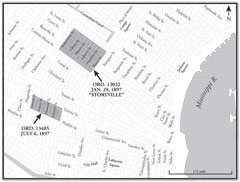 Map showing the two prostitution districts created in New Orleans in 1897.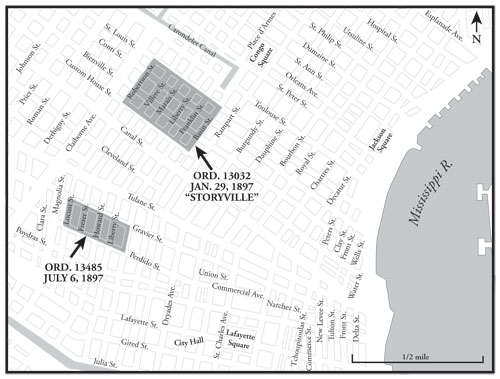 Map showing the two prostitution districts created in New Orleans in 1897. The larger Storyville district was created by Ordinance 13032 on January 29, 1897, and a smaller district was created by Ordinance 13485 on July 6, 1897. Note: Custom House Street, which formed Storyville's southwestern boundary, was renamed Iberville Street in 1901.
Developers also flooded into the area, subdividing properties to increase rental revenues or demolishing housing stock to make way for expansive new brothels and barrooms. Before 1897, the core of the neighborhood had been considered undesirable, and most residents lived in modest housing stock. Once Storyville became a legal entity, skyrocketing rents forced pre–vice district residents to move. One landlord admitted that rents in the neighborhood rose "from one hundred to three hundred percent" in the year leading up to the passage of the ordinance.[8]
Obviously, the situation was unfair to the tenants who were priced out of the hot new real estate market of Storyville. Then as now, racial identity exacerbated problems finding housing. Eerily echoing post-Katrina concerns, a writer for the Southwestern Christian Advocate in 1897 reminded readers that "it is extremely difficult and may we say next to impossible, for a Negro to secure a decent house in a desirable portion of the city." As with the post-Katrina diaspora of this neighborhood, it is impossible to know where all of those who were displaced from Storyville wound up. At least some of them moved a few blocks above Canal Street, into or near the four additional blocks also designated part of the 1897 vice district boundaries. This shadow district—literally a demimonde of a demimonde—has been largely invisible in local lore and historical studies. Yet it was in this neighborhood that a little boy named Louis Armstrong grew up and where his mother occasionally engaged in prostitution to make ends meet. Armstrong recalled that the area "was just about the same as it was in Storyville except that the chippies were cheaper," leading the recent Armstrong biographer Thomas Brothers to label the area "the cheap Storyville." Others have dubbed it "the black Storyville," because black men could move freely in the streets and frequent the saloons, dance halls, and prostitutes—something they could not do in and around the high-end Basin Street brothels.[9]
In this smaller, secondary vice district, Jewish and Italian immigrants lived side by side with the children and grandchildren of emancipated slaves. Sometimes the inhabitants fought, but inevitably they influenced one another. Together they created a unique American art form. Originally called "jass"—itself a slang term for sex—the music was first played and enjoyed exclusively by New Orleans's poor and marginal people. Only later would respectable white folks embrace this music, dub it "jazz," and attempt to claim it as their own.
Over the last century, Storyville has become a legendary, though largely misunderstood, aspect of the city's history. Musicians have popularized the district through jazz standards such as "Basin Street Blues," while numerous works of fiction and a handful of films, including Louis Malle's controversial Pretty Baby, have expanded the district's legends without examining Storyville's political, social, cultural, or economic significance. A widely ignored aspect of Storyville's history, and the history of its sister district slightly further uptown, is that these two neighborhoods were the city's first testing grounds for mandatory residential segregation. This segregation was not based explicitly on race, but on gender, requiring any woman who engaged in prostitution to live within the specified boundaries. In the era of Plessy v. Ferguson, the U.S. Supreme Court ultimately upheld the city's right to maintain those vice district boundaries. Though Storyville has been romanticized to the point of silliness, its history reveals how multiple forms of prejudice—in this case directed against people on the basis of gender, race, class, and a reputed lack of respectability—are mutually reinforcing. The ordinance that created Storyville mapped white male social and sexual supremacy onto the city's grid, and it was all perfectly legal.[10]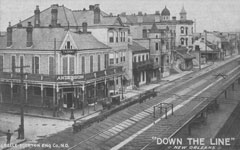 This postcard shows the legendary Basin Street (c. 1908) in the vice district of Storyville. Courtesy Alecia Long.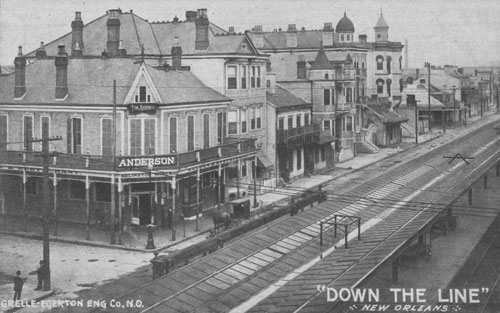 This postcard shows the legendary Basin Street (c. 1908) in the vice district of Storyville. The rail lines in the foreground transported visitors "down the line" to the heart of the district. Courtesy Alecia Long.
The two vice districts were shuttered in 1917, but not because anyone on the local scene was willing to grapple with issues of racial and gender equality. Rather, the upsurge of patriotism, conservatism, and cultural piety that accompanied U.S. entry into World War I led to the closure of vice districts nationwide, and, though city leaders directly and tirelessly defended segregated vice, for once New Orleans was no exception. In the first two decades after the official demise, a few madams held on and continued to do business in the area formerly known as Storyville. As the neighborhood, its fortunes, and its structures declined, the poor and disadvantaged, most of whom were African American, began to move back in.
Poor blacks would dominate the neighborhood for the next two decades, until "progress" reared its head again in the late 1930s. This time at least, the "equivalent elimination" clause of the U.S. Housing Act of 1937 "stipulated that at least one unit of housing must be built for every slum unit it razed." Although blacks were once again displaced, there was the promise of replacement housing down the road. Despite efforts by the local housing authority to limit publicity related to the interim evictions, people stubbornly tend to remember such things; "a black New Orleans journalist later recalled that this razing of black housing for a white project created some resentment in the neighborhood." There is a sense of déjà vu about the resentment now brewing among current and former residents of the Iberville Housing Project. Although a small number of Iberville's pre-storm residents have been allowed to return, some of them have recently filed a class-action lawsuit against the Department of Housing and Urban Development (hud) and the local housing authority for the right to remain in or return to their homes. They justifiably fear displacement by the tourist industry and grand development schemes.[11]
For several years before Katrina, developers had been making plans for the property occupied by Iberville. In 2001, Tom Benson, the owner of the New Orleans Saints, floated the idea of demolishing the housing project and having the city and state finance the construction of a new football stadium on the site. The controversial developer Pres Kabacoff, the chief executive of Historic Restorations Incorporated, proposed a plan in 2004 that would also destroy Iberville and move its residents elsewhere. Kabacoff's scheme, Operation Rebirth, which had the intention of reinvigorating the city's tourist economy and urban core, included revamping Canal Street, building a multimillion-dollar music museum, and, in his words, creating a kind of "Afro-Caribbean Paris" in the city's center. Before Katrina, Kabacoff's proposal was stalled because everyone knew that "embellishing the historical center of the city" would include permanently displacing virtually all of Iberville's residents. Like many other developers, politicians, and bureaucrats, Kabacoff believes that public housing has failed and that the future lies in the creation of mixed-use, mixed-income developments that will disperse rather than concentrate the poor. Perhaps, advocates argue, mixed-use developments will improve the depressing and durable lack of social mobility among the all-black residents of New Orleans public housing. If nothing else, this engineered dispersal will certainly render them less visible and perhaps make them less troublesome. But local politicians did not have the stomach for the massive relocation such plans entailed, and then Katrina came along.[12]
Another group of private developers have unveiled ambitious plans for the other section of the turn-of-the-century vice district. Most of the housing stock in what had been "black Storyville" was destroyed and redeveloped in the 1950s and 1960s. Today, the former uptown vice district is home to parking lots, hotels, aging office towers, and a cluster of municipal buildings including City Hall. A group of investors called the Hyatt District Rebirth Advisory Board has plans for a sprawling performance art park in this area, anchored on one end by a lavishly renovated Hyatt Regency Hotel and on the other by an ambitious entity called the National Jazz Center. Although the developers have the support of prominent jazz musicians, little has been said in publicity materials about the fate of three historic buildings that stand in the path of these plans. The New Orleans Times-Picayune columnist Lolis Eric Elie contends that the "three crumbling buildings might be the most important surviving structures in the history of early jazz. The Eagle Saloon, the Iroquois Theater, and the Little Gem Saloon" were important venues for an impressive list of the musicians who created the art form. Nor did the developers of the Hyatt-led project indicate what the project's relationship would be with the struggling New Orleans Jazz National Historical Park, which opened in 1994 and is operated by the National Park Service. Although the New Orleans Jazz National Historical Park has struggled for resources, park officials have worked actively with local preservationists to protect the structures at the corner of Rampart and Poydras streets. New Orleans architect and Hyatt District Rebirth Advisory Board member Raymond Manning has provided assurances that the buildings, two of which are on the National Register of Historic Places, will be saved, but they do not appear in online renderings related to the project, and, given the city's track record, preservationists are right to be concerned.[13]
In May 2006, plans for the new performance art park were announced publicly. Although Mayor C. Ray Nagin and Governor Kathleen Blanco had no active role in the development of plans for the jazz district, they were on hand to lend support to what the Hyatt executive Lawrence Geller promises will be "a grand destination that provides the citizenry with an unmatched urban cultural experience." What Geller and his supporters fail to mention is that their plans threaten three important historic buildings and will pave over and obliterate the streets and what remains of the streetscapes where jazz was nurtured.[14]
Without knowledge of the history of the city's last two vice districts and their subsequent redevelopments in the twentieth century, one could believe that something unprecedented is afoot in post-Katrina New Orleans. In the months following the storm, many preservation-minded writers worried that developers' plans might "irrevocably blot out the city's past,"a valid concern regarding streetscapes and the widespread destruction of many of the city's characteristic architectural forms.[15] Unfortunately, however, there is plenty of precedent for the political processes that accompany large-scale redevelopment efforts in New Orleans. We are seeing business as usual when it comes to pushing people and historical structures out of the way in the name of progress. If developers continue to dominate the city's reconstruction efforts—and that looks likely at the moment—the history of these two neighborhoods will be repeated like a long, sad, familiar funeral dirge. Longstanding legacies of racism and displacing the poor will continue, while an upbeat band of developers leads the parade, with their cronies in the government and the corporate media providing a happy, naïve, and self-congratulatory second line.
In post-Katrina New Orleans, it is not too much to say that poverty is the new prostitution—a tiresome urban problem that most know is not going away, but would just as soon not have to look at or deal with directly. A century ago, citing a plague of prostitution, city leaders sought to limit the visibility of this embarrassing but lucrative population in two segregated vice districts. Today's poor are less useful to the metropolis, and poverty, in general, is considered pornographic, an embarrassing and shameful fact of life that leaders at all levels of government seem eager to shove into the shadows and otherwise render invisible. But there is no smoke screen large enough to obscure the fact that the poor are still with us and that their largely dark-skinned numbers are growing.
In the wake of Hurricane Katrina, the crime that the poor of New Orleans are most guilty of is making themselves so damn visible. In a nation that loathes poverty and prefers to deny its existence, just being poor is an affront to the lies told by politicians—conservative and liberal—about the supposed successes of welfare reform and the benefits of a free-market economy. In reforming public housing specifically, politicians and bureaucrats in New Orleans are no longer expected to enact the same kind of good-sense policies, such as equivalent elimination, that were part of the 1937 Housing Act. This makes it possible for them to demolish five thousand units of public housing in the midst of a staggering post-disaster housing crisis. To slightly amend for 2007 a quotation from an 1898 New Orleans Daily Picayune article, "the city government is trying to drive [poverty] out of the most prominent localities and into obscure neighborhoods where decent people will not be constantly offended by [the] open and shameless flauntings [of the poor]." One month after Hurricane Katrina struck, hud secretary Alphonso Jackson stated that New Orleans "is not going to be as black as it was for a long time, if ever again." Historically informed observers know that this is as much a matter of policy as it is prognostication.[16]
[1] Martha Mahoney, "Law and Racial Geography: Public Housing and the Economy in New Orleans," Stanford Law Review, 42 (May 1990), 1251–90.
[2] For statistics on public housing before and after Hurricane Katrina, see New Orleans Times-Picayune, Oct. 18, 2006, pp. A1, A4, A5, A6.
[3] For Richard H. Baker's quote and his commentary on it, see Charles Babington, "Some gop Legislators Hit Jarring Notes in Addressing Katrina," Washington Post, Sept. 10, 2005, p. A4, http://www.washingtonpost.com/wp-dyn/content/article/2005/09/09/AR2005090901930.html. For details about Anderson v. Jackson, a pending class-action lawsuit brought by and on behalf of displaced residents of New Orleans pubic housing, see "Federal Agencies Sued for Violations of the Fair Housing Act against New Orleans Public Housing Residents," June 27, 2006, Advancement Project, http://www.advancementproject.org/news/news-display-article.php?content_news_id=102%22.
[4] Richard Campanella, Geographies of New Orleans: Urban Fabrics before the Storm (Lafayette, 2006); Craig E. Colten, An Unnatural Metropolis: Wrestling New Orleans from Nature (Baton Rouge, 2005); Peirce F. Lewis, New Orleans: The Making of an Urban Landscape (Charlottesville, 2003).
[5] Alecia P. Long, The Great Southern Babylon: Sex, Race, and Respectability in New Orleans, 1865–1920 (Baton Rouge, 2004), 2, 229, 230, 231; New Orleans as It Is, by a Resident (Utica, 1849), 46–49. See also Emily Epstein Landau, "'Spectacular Wickedness': New Orleans, Prostitution, and the Politics of Sex, 1897–1917" (Ph.D. diss., Yale University, 2005).
[6] Long, Great Southern Babylon, 3; "A Plague of Prostitutes," Mascot, June 11, 1892, p. 1; "Reported Outrage in a Canal Street Saloon," New Orleans Daily Picayune, Jan. 1, 1898, p. 4.
[7] On these events, see Long, Great Southern Babylon, 105–21; and Landau, "'Spectacular Wickedness,'" 75–81.
[8] Long, Great Southern Babylon, 119.
[9]Southwestern Christian Advocate, Sept. 30, 1897, p. 1; Louis Armstrong, Satchmo: My Life in New Orleans (1954; New York, 1986), 8, 94; Thomas Brothers, Louis Armstrong's New Orleans (New York, 2006), 1.
[10]Pretty Baby, dir. Louis Malle (Paramount, 1978); Plessy v. Ferguson, 163 U.S. 537 (1896).
[11] Martha Ruth Mahoney, "The Changing Nature of Public Housing in New Orleans, 1930–1974" (M.A. thesis, Tulane University, 1985), 21, 28; "Federal Agencies Sued for Violations of the Fair Housing Act against New Orleans Public Housing Residents."
[12] Christopher Tidmore, "The Housing Project the New Deal Built," Louisiana Weekly, July 9, 2001, pp. 1, 21, http://www.louisianaweekly.com/weekly/news/articlegate.pl?20010709d; "Downtown Proposal Targets Projects near French Quarter," wwltv.com, Nov. 20, 2004, http://www.wwltv.com/local/stories/112004cckkWWLTVproposal.772a0055.html; Alex Frangos, "Can a Rebuilt New Orleans Retain Its Character?," Sept. 8, 2005, Pittsburgh Post-Gazette, http://www.post-gazette.com/pg/05251/567905.stm; Andy Serwer, "Bullish on the Big Easy: Of Course We'll Rebuild New Orleans. But Doing It Right Will Take Both Art and Science," Oct. 3, 2005, cnnMoney.com, http://money.cnn.com/magazines/fortune/fortune_archive/2005/10/03/8356738/index.htm.
[13] For renderings of the proposed development, see "Jazz at the Center of Rebirth," June 15, 2006, New Orleans Jazz Orchestra, http://www.thenojo.com/news/story.cfm?ID=1. See also "Hyatt-Superdome Area to Be Redeveloped into New Hyatt Jazz District," May 30, 2006, ibid., http://66.207.138.50/news/story.cfm?ID=17. Lolis Elie, "Aren't We Forgetting Something?," New Orleans Times-Picayune, June 2, 2006, p. B1.
[14] "Hyatt-Superdome Area to Be Redeveloped into New Hyatt Jazz District," para. 4.
[15] Doug MacCash, "New Urbanism Dominates Rebuilding Chatter," New Orleans Times-Picayune, Nov. 14, 2005, p. A1, http://www.nola.com/printer/printer.ssf?/base/news-4/1131950907267410.xml.
[16] "Federal Agencies Sued for Violations of the Fair Housing Act against New Orleans Public Housing Residents," para. 5.