Through the Eye of Katrina: The Past as Prologue?
An Introduction
Clarence L. Mohr and Lawrence N. Powell
Journal of American History,

94 (Dec. 2007), 693–694.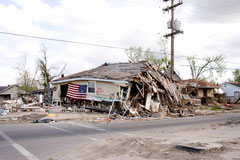 In this photograph taken in April 2006, a devastated home in New Orleans's Lower Ninth Ward bears witness to Hurricane Katrina's destructive force and human toll. Photo by Carol M. Highsmith. Courtesy Carol M. Highsmith.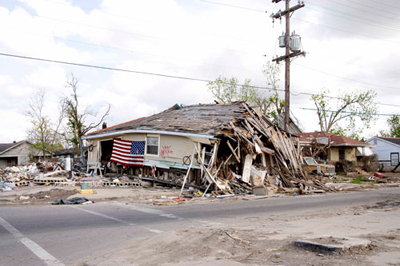 In this photograph taken in April 2006, a devastated home in New Orleans's Lower Ninth Ward bears witness to Hurricane Katrina's destructive force and human toll. Photo by Carol M. Highsmith. Courtesy Carol M. Highsmith.
Coming four years after the trauma of September 11, 2001, Hurricane Katrina in 2005 delivered an unwelcome aftershock to the American psyche. In a period when "homeland security" had been thrust to the forefront of political dialogue, the federal government's seeming inability to provide timely humanitarian assistance to storm victims in New Orleans and along the Gulf Coast raised doubts about the nation's readiness to meet future emergencies. For outside observers, as well as displaced local residents, the Katrina debacle proved deeply unsettling. The entire episode represented not only a blow to America's psychological recovery from the 2001 attacks but also an affront to our sense of civility and collective responsibility for the welfare of our fellow citizens.
In the most visceral sense, history hovered over the Katrina disaster. As hours turned into days for suffering refugees at the New Orleans Superdome and on isolated interstate overpasses, television reporters with little grasp of either the recent or the remote past struggled to give voice to a question that many viewers were already asking: New Orleans, Louisiana—is this America? As had been true when violence against civil rights workers in Mississippi in 1964 led to that question, it would readily admit of either a positive or a negative answer—both equally unnerving to the historically innocent. Today as in 1964, it is possible to view poverty and racial inequality as American problems requiring national intervention or as localized aberrations within a generally fair and open democratic society. In a similar fashion, the manifest inability of New Orleans to cope with a long-predicted natural disaster may be attributed chiefly either to the presumed moral failings of an exotic Third World culture or to the prolonged failure of Congress and the executive branch to invest in basic urban infrastructure. Either view of the problem contains an implicit mandate to connect the nation's past with that of the South and of the self-proclaimed city that care forgot in the state that has all too often forgotten to care.
As informed citizens who study the past, historians have a unique opportunity, and thus a particular obligation, to make the present comprehensible in terms of what has gone before. Like any occurrence in the here and now, Hurricane Katrina derives its meaning partly from contemporary circumstances and partly from perceptions that are shaped by accumulated experience, or what is sometimes called historical memory. The relationship between Katrina and its historical context is, of course, dynamic and reciprocal. As historians have long recognized, current events—especially traumatic shocks that disrupt the status quo—alter our perceptions of the past. In the shadow of human catastrophes, scholars are pushed to formulate new questions and to revisit old orthodoxies as they probe for fresh meaning in what Robert Coles has described as "that flow of human affairs that gets called history."[1]
Most of the essays that follow were initially prepared for delivery at the Howard Mahan Symposium, a conference held in Mobile, Alabama, on March 7–10, 2007, and sponsored by the Department of History at the University of South Alabama in cooperation with the Journal of American History. The 2007 symposium is also part of an ongoing series of lectures and scholarly events at the University of South Alabama devoted, in part, to examining the history of the U.S. Gulf Coast region within a national and transatlantic context.
Following the devastation wrought by Hurricane Katrina in 2005, earlier plans to devote the 2007 Mahan Symposium to the antebellum and Civil War experience in the gulf ports were postponed so that the symposium could instead explore the historical meaning of Katrina and its aftermath. Edward T. Linenthal, editor of the Journal of American History, was simultaneously preparing to solicit contributions for a special issue on a similar theme, to be guest edited by Professor Lawrence N. Powell of Tulane University. Professors Powell, Linenthal, and Clarence Mohr, history department chair at the University of South Alabama, subsequently decided to combine their efforts in the interest of avoiding duplication and ensuring timely publication for the work of the scholars invited to participate.
We hope this special JAH issue, like the Mobile conference, will provide a way of paying attention to the Katrina tragedy—a way of not only studying the event and its enduring legacy, but remembering its many victims. The work presented here also represents an attempt to enlist history and its allied disciplines in the task of civic reconstruction. In different ways the essays published here seek to identify those aspects of the past in New Orleans and elsewhere on the Gulf Coast that are most pertinent to charting an intelligent course for the future. No doubt that is asking a great deal—from a small academic conference or a large academic journal. In the America of 2007 only the most irrepressible optimist would imagine a world in which the opinions of historians were actively sought by those in the high councils of government. But for citizens on the storm-wracked Gulf Coast, optimism has become a Darwinian survival trait, and if Lawrence Powell is correct in his assessment of Katrina as a "detonating event," the winds of change may have been concealed within Katrina's ferocious eye wall.
[1] Robert Coles, The Mind's Fate: A Psychiatrist Looks at His Profession—Thirty Years of Writings (Boston, 1995), xi.