Analyzing documents and artifacts
Representing Text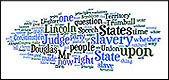 Computer-generated word clouds offer an easy method for viewing word frequency patterns in blocks of text. This section contains a clickable word cloud of the Lincoln-Douglas debates of 1858 that allows readers to move back and forth between the cloud image and the full text of the debates.

Flip book technology offers scholars a digital equivalent to the traditional facsimile edition. This section provides a digital facsimile of Lincoln's 1858 debates scrapbook, an extremely rare volume housed at the Library of Congress.
Visualizing Data
Digital data can be overwhelming. This section demonstrates some emerging modes for visualizing data in ways that might help scholars and transform their research process.

By combining data from The Collected Works of Abraham Lincoln, the Papers of Abraham Lincoln at the Library of Congress and the Lincoln Log (or Day-by-Day) with a map from Google and timeline from SIMILE, we can present an integrated view of Lincoln's political world.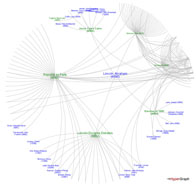 This hypergraph shows how to access Lincoln-related material in the House Divided database at Dickinson College by seeing the data as a graphic (and interconnected) web. Like other digital humanities projects, the hypergraph connects previously isolated data and draws undiscovered connections.
Dynamic Maps
Maps have always been a part of the historian's tool box and this is especially so for Lincoln historians, whose subject was a former land surveyor, circuit-riding attorney, and a politician. Maps in the predigital age were static. Digital innovations offer an opportunity to create dynamic interfaces.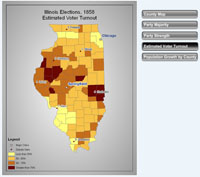 This series of Geographic Information System (GIS) maps illustrates political information and demographic correlations related to the 1858 Lincoln-Douglas senate campaign.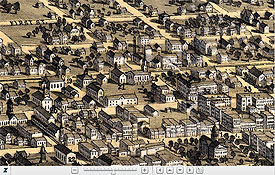 This is a bird's-eye map of Springfield, Illinois from 1867 transformed by free magnification software called Zoomify.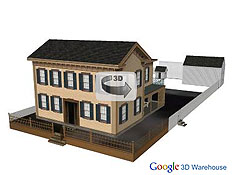 There are two examples of 3D models for historic buildings associated with Lincoln Google SketchUp. These models suggest the increasing potential for re-creating the physical world of nineteenth-century subjects.